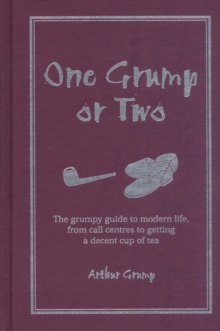 One Grump or Two : The Grumpy Guide to Modern Life, from Call Centres to Getting a Decent Cup of Tea
Hardback
Description
All you want is a decent cup of tea. But oh no, modern Britain doesn't want to give you that.
It wants to sell you a fancy Dan coffee in a mug the size of a popcorn bucket, complete with double cream, chocolate sprinkles, and no change from a five pound note. And that's just for starters. Everywhere you look, modern life has turned common sense completely on its head.
Call centres keep you on hold from three different continents.
Train doors close thirty seconds before departure. And as if there wasn't enough cheese on your pizza already, they're now stuffing it into your crust as well.
From speed cameras to organic vegetables, mobile phones to celebrity idiots, this hilarious new book lays bare the sheer lunacy of modern living.
One Grump or Two is for everyone who has ever found Great Britain is starting to grate, and dreams of a world where football matches start at 3 o'clock on a Saturday afternoon, the top forty is full of songs you can whistle in the bath, and cafes still serve you a proper cup of tea.
Information
Format: Hardback
Pages: 160 pages, Black and white illustrations throughout
Publisher: Pavilion Books
Publication Date: 15/09/2008
Category: Humour
ISBN: 9781906032531
Free Home Delivery
on all orders
Pick up orders
from local bookshops
Reviews
Showing 1 - 1 of 1 reviews.
Review by reading_fox
16/06/2015
Surprisingly funny in places, and completely missing it in others. Very UK centric and dated at about 2006, will not age at all well. It is aimed solely at the middle aged, middle class, married, working, white male, nobody else is likely to find this even slightly humorous.A compilation of rants each no more than a few paragraphs long about the best and worst areas of life in the UK in 2006 or so. Some are spot on and delivered in just that dead pan ranting mode you can expect of a middle aged white middle class UK male irritated beyond reason by petty trivia and bemoaning it to his friends or the barman over half a mild in the local pub. Others (the majority) just miss the mark somehow, either getting the tone wrong, or else elaborating on a problem that just isn't quite true. All the usual topics that can be expected are covered here, from the ineptidude of politicans and why this is a good thing, to the tyranny of HR departments and why they can't sack themselves. 'yooth' get a predictable bashing, as does modern music, american influences and well anywhere that's not britain really, though even here there are some rumblings about the 'the north' and 'the south' which is worse!Fortunetly some of the recent campaigns abut cultural tolerance have been accepted and what could have racist abuse comes off as a more widespread abuse. Those who get it hardest - ex-pats, taking a bit of england away with them so that they don't have to experience the local culture; and then complaining that they can't get a decent curry!