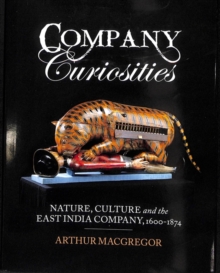 Company Curiosities : Nature, Culture and the East India Company, 1600-1874
Hardback
Description
For nearly three hundred years, the East India Company dominated British trade and relations with Asia.
It made handsome profits for shareholders but also provided collectors in Europe with natural specimens and man-made rarities that were prized for their scientific, aesthetic or cultural value.
An array of administrators, soldiers, surveyors spent much of their lives attempting to inventory and to comprehend India's vast country, its teeming populations and its myriad rituals and wildlife: nearly forty species of mammals and over 120 species of birds were discovered in the Katmandu valley alone; astonishing wall paintings from the fifth-century were unearthed in caves at Ajanta; and spectacular fossil fauna arrived from the Siwalik Hills. Company Curiosities: Nature, Culture and the East India Company, 1600-1874 offers the first-ever overview of the remarkable role of the East India Company and its servants in collecting and showcasing a treasure-house of natural specimens and man-made objects - craft materials, paintings and sculptures, weapons, costumes, jewels and ornaments - that established the look and the feel of India for those who had never ventured abroad.
Arthur MacGregor tells the stories behind the remarkable discoveries and collections, and those responsible for them, and their impact on natural science, commerce and industry, and personal taste.
Information
Format: Hardback
Pages: 352 pages, 160 illustrations, 100 in colour
Publisher: Reaktion Books
Publication Date: 15/11/2018
Category: Acquisitions & collection development
ISBN: 9781789140033
Free Home Delivery
on all orders
Pick up orders
from local bookshops