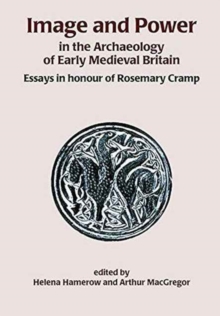 Image and Power in the Archaeology of Early Medieval Britain : Essays in honour of Rosemary Cramp
Paperback / softback
Description
Rosemary Cramp's influence on the archaeology of early Medieval Britain is nowhere more apparent than in these essays in her honour by her former students.
Monastic sites, Lindisfarne and Whithorn, are the inspiration for Deirdre O'Sullivan's and Peter Hill's papers; Chris Loveluck discusses the implications of the findings from the newly-discovered settlement at Flixborough in Lincolnshire; Nancy Edwards describes the early monumental sculpture from St David's in South Wales; Martin Carver reviews the politics of monumental sculpture and monumentality; and Catherine Hills reassesses the significance of imported ivory found in graves.
Richard Bailey, Christopher Morris and Derek Craig top and tail the book with tributes to Rosemary Cramp and a bibliography of her work.
Information
Format: Paperback / softback
Pages: 192 pages
Publisher: Oxbow Books
Publication Date: 15/10/2016
Category: Medieval European archaeology
ISBN: 9781785704659
Other Formats
EPUB from £14.40
PDF from £14.40