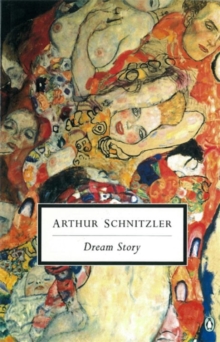 Description
This wonderful translation of Dream Story will allow a fresh generation of readers to enjoy this beautiful, heartless and baffling novella.
Dream Story tells how through a simple sexual admission a husband and wife ware driven apart into rival worlds of erotic revenge.
Other Formats
Paperback from £5.59
EPUB from £3.99
Free Home Delivery
on all orders
Pick up orders
from local bookshops
Reviews
Showing 1 - 3 of 3 reviews.
Review by MeditationesMartini
16/06/2015
Stanley Kubrick's <i>Eyes Wide Shut</i> made a real impression on me as a wee sprout--I remember coming out of it with a pile of tortuous metaphors concerning what my recently-become-ex-girlfriend Erin and I could have done to manage our feelings and fears, the most salient as well as the most embarrassing of which had to do with surfboards and just riding the wave, bra. What I didn't realize, watching crazy, WASPy old Tom Cruise mug his way through what should have been a haunting role, was that the source material--Arthur Schnitzler's <i>Dream Story</i>--wasn't really for people like me at all--young, well-adjusted, healthy members of the suburban dominant culture. No, this is a book about outsiderness; more specifically Jewishness; more specifically still, bourgeois Viennese trying-to-pass Jewishness in the overcultivated, brutal, imperial-headbirth era of decline presided over by filthy, genial mayor Karl Lueger, some of whose best friends were Jews, as you may have heard. This is a story about relationships, jealousy, recognizing the humanity of the other and what you do with that, and it has a surprisingly sweet ending; but it is also a story of exclusion, fear, colliding inferiority complexes on every street corner, and Schnitzler signals strongly that that sweet ending will turn out to be false or at least temporary--and yikes, you think, Jews of Vienna? Temporary any implied happy ending certainly was.
Review by HadriantheBlind
16/06/2015
Freud meets Chekhov in decadent Vienna. Dreams, repression, love, lust, marriage, all that good stuff. Kubrick made a movie out of it. If this doesn't grab your attention, I'm not sure if I know you anymore.
Review by Ireadthereforeiam
27/08/2015
Vienna, a long time ago. A respectable doctor has a series of talks with his wife about their dreams, past likes/loves and what ifs. This brings about disquiet and mistrust between them and the doctor then goes about sabotaging the relationship in retaliation. That he is tempted by the flesh is a side-issue for the good doctor. He still manages to in fact blame his wife and her wayward and callous dream for his actions. Interesting. I wonder what Freud would have to say about all this- he was friend to the author. Fortunately for me, while reading the book, I was able to see it in the context of its ancient and unenlightened times so could forgive the sexist attitudes and just go with the story. I read it as an interesting slice of time and place.
Also in the Penguin Modern Classics series | View all