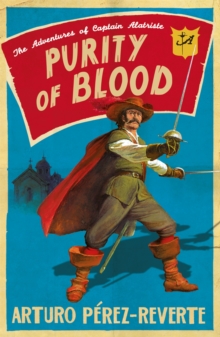 Purity of Blood : The Adventures of Captain Alatriste
Paperback
Description
The second 'Captain Alatriste' novel, from a series which has sold 4 million copies worldwideA woman has been found in a sedan chair in front of a church, strangled.
In her hand is a pouch containing fifty escudos and a handwritten - but unsigned - note bearing the words 'For masses for her soul'.
The chief constable Martin Saldana confides in his old friend and comrade in arms, Diego Alatriste.
Still in danger from the powerful enemies he made in his first adventure, Captain Alatriste is considering returning to Flanders where the war has just resumed.
But first, his old friend Quevedo asks him for a favour.
The daughter of one of his friends must be rescued from a convent, which certain 'priests' seem to be treating as little more than a harem.
Then the woman who brought the girl to the convent goes missing and the connection is made to the murder at the church.
It seems that Alatriste's sword is required once more.
Information
Format: Paperback
Pages: 288 pages
Publisher: Orion Publishing Co
Publication Date: 01/09/2006
ISBN: 9780753821190
Free Home Delivery
on all orders
Pick up orders
from local bookshops
Reviews
Showing 1 - 1 of 1 reviews.
Review by AHS-Wolfy
16/06/2015
The 2nd in the Captain Alatriste series picks up the story not long after the the 1st with our heroic Spanish captain contemplating re-enlisting to avoid possible repercussions from his earlier adventure. But before he can his friend don Francisco de Quevedo, poet, swordsman and highly celebrated wit at court, requests his aid in another dangerous escapade. An acquaintance of Quevedo's has asked his help in rescuing his daughter from a convent where illicit practices are being performed by the priests. A daring rescue plan is set in motion but no sooner do they storm the convent but soldiers and agents of the Inquisition appear and it seems as though they have walked directly into a trap.This tale is again narrated by Inigo Balboa, son of a dead wartime companion currently being cared for by Alatriste, and continues to be beset by the same problems as the earlier book. Told from after the event and including reference to future times any possible suspense to the outcome is rendered obsolete. Even when Inigo falls prey to the Inquisition you know that nothing too serious will happen to him otherwise he would be unable to fight in future battles that he recounts. The major plus continues to be the scene-setting where cultural excess is balanced by political disaster which will lead to Spain's downfall. I won't be averse to continuing the series but it's not one that I will go out of my way to pick up.
Also in the The Adventures of Captain Alatriste series | View all