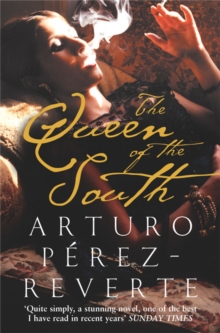 The Queen of the South
Paperback
Description
Guero Davila is a pilot engaged in drug-smuggling for the local cartels.
Teresa Mendoza is his girlfriend, a typical narco's morra, quiet, doting, submissive.
But then Guero's caught playing both sides and in Sinaloa that means death.
Teresa finds herself alone, terrified, friendless and running to save her life, carrying nothing but a gym bag containing a pistol and a notebook that she has been forbidden to read.
Forced to leave Mexico, she flees to the Spanish city of Melilla where she meets Santiago Fisterra, a Galician involved in trafficking hashish across the Strait of Gibraltar.
When Santiago's partner is captured, it is Teresa who steps in to take his place.
Now Teresa has plunged into the dark and ugly world that once claimed Guero's life - and she's about to get in deeper...
Information
Format: Paperback
Pages: 528 pages
Publisher: Pan Macmillan
Publication Date: 01/08/2005
Category: Crime & mystery
ISBN: 9780330413145
Free Home Delivery
on all orders
Pick up orders
from local bookshops
Reviews
Showing 1 - 4 of 4 reviews.
Review by allison.sivak
16/06/2015
The whole time I was reading this novel, I thought it was creative non-fiction, in part because it reads with the vivid deatil of the "real," but also because Perez-Reverta integrates as characters real people involved in the world of drug trafficking, both acknowledging and dedicating his book to Elmer Mendoza, Julio Bernal, and Cesar "Batman" Guemes. Regardless of the fact that the dramatic telling of Teresa Mendoza is fiction, it reads so true, and true in all the ways I like epic stories to be: smart heroine, improbable odds, good luck, and narrow escapes and victories. I really didn't want this book to be over.
Review by LaurieRKing
16/06/2015
A master of prose, and the translator should win a prize as well.
Review by nnschiller
16/06/2015
I picked up this book on a whim. I've previously read the first Captain Alatriste novel and The Club Dumas, and loved them both, so I was confident that I'd enjoy Perez-Reverte's work in a more contemporary setting. The Queen of the South is a novel about the rise and fall of a female nacrotrafficante and her journey from Sinaloa to Gibraltar &amp; Spanish North Africa and finally back to Sinaloa.<br/><br/>The book had all the things I've come to love about Perez-Reverte's work: a fictionalized journalistic style, solidly written action with clearly drawn characters, and swashbuckling heros described with philosophical and literary allusions.<br/><br/>What I didn't expect (although I should have after the Club Dumas) was that the Queen of the South is a loving homage to The Count of Monte Christo. Perez-Reverte did not just copy the plot arc of Dumas Pere's classic. He wrote a love story to it. Each character is drawn with painstaking strokes to capture something essential about the archetype without slavishly copying or over-simplifying.<br/><br/>What Perez-Reverte does extraordinarily well is to choose his parallels so that they highlight central human characters and flaws that tie the 19th century romance with contemporary happenings. He also builds emotional weight slowly and without sentimentality or hyperbole. This allows him to pre-weight a scene with emotional impact and then deliver a terse, journalistic paragraph that merely states facts and yet breaks this readers' heart.
Review by bibliostuff
16/06/2015
Teresa Mendoza's boyfriend has told her that if the phone "...ever rings, it's because I'm dead. So run. As far and as fast as you can, prietita…" Running drugs is a dangerous business. Teresa runs fast and far fleeing Mexico for Spain and winding up in Melilla—a city belonging to Spain but located in North Africa bordered by Morocco and the Mediterranean. After several months working in a bar Teresa finds that she is not content merely surviving and begins a long climb into the world of drug trafficking and through sheer determination, intelligence, and luck she establishes her operation as one of the largest in the Mediterranean.<br/><br/>The story is told in alternating segments: in third person narrative following Teresa Mendoza and a first person narrative of a reporter's investigation into her life years down the road. Those familiar with Perez-Reverte's earlier novels (The Dumas Club, The Fencing Master) will note that this new novel is considerably different than his earlier work. Part thriller, part mystery, and perhaps just a smidgen of chic lit with a serious edge on it.