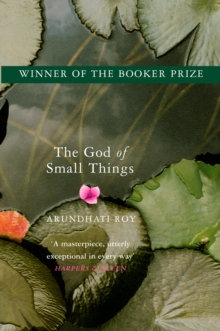 The God of Small Things
Paperback
Description
`They all broke the rules. They all crossed into forbidden territory. They all tampered with the laws that lay down who should be loved, and how. And how much.'This is the story of Rahel and Estha, twins growing up among the banana vats and peppercorns of their blind grandmother's factory, and amid scenes of political turbulence in Kerala.
Armed only with the innocence of youth, they fashion a childhood in the shade of the wreck that is their family: their lonely, lovely mother, their beloved Uncle Chacko (pickle baron, radical Marxist, bottom-pincher) and their sworn enemy, Baby Kochamma (ex-nun, incumbent grand-aunt).Arundhati Roy's Booker Prize-winning novel was the literary sensation of the 1990s: a story anchored to anguish but fuelled by wit and magic.
Information
Format: Paperback
Pages: 368 pages
Publisher: HarperCollins Publishers
Publication Date: 06/10/1997
ISBN: 9780006550686
Other Formats
EPUB from £3.99
Paperback from £8.99
CD-Audio from £12.19
eAudiobook MP3 from £5.59
Free Home Delivery
on all orders
Pick up orders
from local bookshops
Reviews
Showing 1 - 5 of 15 reviews.
Previous | Next
Review by bookcrazed
16/06/2015
She asks an impertinent and haunting question: Why are there rules about who to love and how to love them?
Review by piefuchs
16/06/2015
Didn't like it at all...mediocre.
Review by s_mcinally
16/06/2015
I found this book a struggle, left me with no greater impression than annoyance at having bought it so compelled to finish it.
Review by ferebend
16/06/2015
I picked up this book solely on the basis of it being a Booker Prize winner. Every Booker I've read thus far has been satisfying and brilliant in some way, so I'm trying to read more of them. It certainly didn't disappoint.Where to start? First of all, the language. This book is told from the perspective (not first-person, though) of two fraternal twins, Esthappen and Rahel. Consequently, and brilliantly, there's a lot of childish wordplay everywhere. Beyond that, Arundhati Roy has a very unique style of prose that's extremely clever and quite addictive. The only drawback to this was that it slowed my reading pace, forcing me to stop every now and then and just enjoy the wording.The story has an interesting flow. It begins at two points: Estha and Rahel in the past, as children, and Rahel in the present, as an adult. Both threads weave in and around each other and eventually converge at a midway point, a real catastrophe, the defining point in the twins' lives. As the story progresses, clues are dropped as to what that all-important event is, but the reader doesn't really find out until the climax.It's a sad book. One of those emotionally heavy reads, but ultimately satisfying and worthy.
Review by Greatrakes
16/06/2015
This is book about twins who consider themselves to be one entity. Their world is shattered by events following the death of their cousin. A death which spreads recrimination and destruction through an entire family.It has grotesques, religious absurdity, dangerous affairs and incest. Set in a small town in Kerala, Southern India, it describes the decline and fall of a once prosperous Syriac Christian family, it's a riot of colour and decay, of prejudice and violence, of disappointment and spite. I was fascinated enough to spend almost as much time reading up on the religious and cultural background as I spent on reading the book.It is also a very funny book. I love books that play with language and this one has a lot of fun with people who speak English as a second or third language and, whilst speaking it idiosyncratically, have many more cultural reference points in English literature than the native speakers they meet. Roy also has the twins speak in title case a lot - a bit like <i>1066 and All That</i>, with its Good Kings and Bad Things. The old building is home to a 'Bar Nowl' and the book turns on 'The Loss of Sophie Mol'.This is my favourite read of 2007, so far.