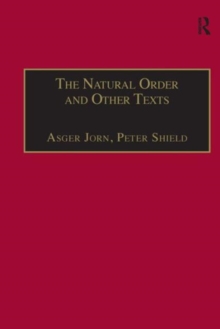 The Natural Order and Other Texts
Hardback
Description
In The Natural Order and Other Texts, Peter Shield presents the first English translations of the artist Asger Jorn's three philosophical texts - The Natural Order, Value and Economy and Luck and Chance.
Offering a unique insight into an artist's attempt to make sense of a contemporary world which would accommodate his practice, these texts present an important contribution to aesthetics for modern art and an attempt at philosophical reconciliation of modern science and modern art. In 1961 Jorn resigned from the Situationist International and took the ideas of thinkers in many fields and amalgamated them into 'the first complete revision of the existing philosophical system' from the point of view of an artist.
He developed a theory of artistic value and the place of the creative elite and adapted his previous ideas of extreme aesthetics to fit into this 'natural order'. Including a comprehensive introduction, Peter Shield's translations of Asger Jorn's classic texts offer invaluable new perspectives to readers crossing the boundaries of philosophy, art history and theory, and cultural studies.
Peter Shield is an art historian, whose book Comparative Vandalism on these and other works by Jorn is also published by Ashgate.
Other Formats
EPUB from £40.49
PDF from £40.49