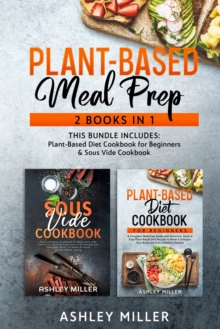 Plant Based Meal Prep : 2 Books in 1 - This Bundle Includes: Plant-Based Diet Cookbook for Beginners & Sous Vide Cookbook
Paperback / softback
Description
Would you like to learn how to eat better? Would you like to discover how to live a healthier lifestyle that helps you lose weight?
If you are tired of the usual complicated diets with tasteless food and absurd calorie counts without achieving the desired results, then there is an alternative for you!
For anyone who wants to lose weight, the hardest thing is to change their habits. After all, who doesn't like to eat? The good news is that you are forced to deprive yourself of your favorite foods, in fact, by simply learning to replace some foods with others, you can start to reduce your calorie intake and lose weight without too much effort and above all without feeling hungry. All this will be possible by choosing a diet based on plants, and you will discover how good it is for your health, your wallet and the environment.
To help you achieve the desired results, we thought of combining all the information about the Plant-Based Diet with the Sous Vide cooking method, so you can learn how to surprise and impress your friends, family and guests by simply using the cooking method used by all the best chefs.
The very important thing you absolutely must know about the Sous Vide method, is that although this technique, used in the best kitchens, can seem very complex and expensive, but really it is extremely easy, cheap and affordable for everyone.
In fact, the Sous Vide method does not require any kind of advanced or expensive equipment, and it will allow you to realize the recipes and dishes that you have always dreamed of, or that you have always avoided because of too much difficulty, in a simple and fast way with thousands of alternatives.
In this bundle, you will find the best tools to take care of your health, protect your body, live better and make sure you see the desired results soon.
Also, we will discover the Sous Vide method in all its aspects, we will show you all the benefits that you will have using this cooking technique, such as losing weight, eating healthy food and assimilating all the necessary nutrients, guiding you step by step to learn and apply everything you want to achieve.
The Plant Based Diet Cookbook for Beginners includes:
* A General Overview of The Plant-Based Diet through all its health benefits, and a collection of useful advice to help you lose weight without giving up the pleasure of eating
* 100+ Healthy and Delicious Plant-Based Recipes for every meal of the day, plus all the key information on macronutrients
* Tips and a Complete Shopping List to stock your kitchen with everything you need to start your Plant-Based Diet
* A 3-Week Plant-Based Diet Meal Plan with various dietetic menus and delicious vegetable-based dishes to prepare for breakfast, lunch and dinner
The Sous Vide Cookbook contains the following categories:
* Breakfast, Eggs and Dairy Products
* Appetizers, Snacks, Lunch and Dinner Ideas
* Pork, Beef and Poultry Meat
* Fish and Seafood
* Vegan and Vegetarian
* Vegetables and Fruits
If you are ready to know everything you need on Plant-Based Diet and Sous Vide, to combine them at their best and start achieving the desired results, don't waste any more time,
Click the BUY NOW Button to Get Your Copy!
Information
Format:Paperback / softback
Pages:438 pages
Publisher:Mwaka Moon Ltd
Publication Date:26/10/2020
Category:
ISBN:9781914033322
Also in the Healthy Home Cooking series | View all