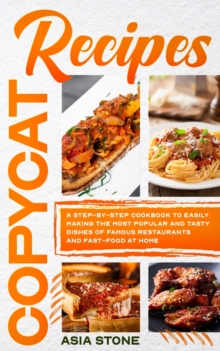 Copycat Recipes : A Step-by-Step Cookbook to Easily Making the Most Popular and Tasty Dishes of Famous Restaurants and Fast Food at Home
Paperback / softback
Description
★ If you want an accurate recipe book, to comfort all your fast food and ★
★ restaurant cravings...then keep reading ★
Welcome to the ultimate cookbook "COPYCAT RECIPES"
In this period, more than ever, we have had to actively stay at home. When the world came to a halt at the start of 2020, a lot of us were not only bored in the house; we also lacked the freedom to go out to our favorite restaurants and order whatever we craved at that very moment. With that luxury of choice coming to a halt, that meant that we now had no choice but to face up to our one fear: the dreaded kitchen!
Well, instead of perceiving the kitchen as a chore-ground, our aim here at Copycat is to help you start to perceive your kitchen as a playground! A playground filled with endless possibilities, where you can travel the world through cuisine and their flavors. It will be a friendly guide to recipes written in an easy step-by-step method, and you'll also be discovering the history and stories behind cuisines, why certain flavors and spices go well with certain dishes, and how this enhances the overall meal!
In this book:
You will be able to copy the delicious and appetizing dishes of restaurants and fast-food restaurants in various parts of the world;
You'll be learning about the culture behind the meals and what specific flavors, spices, and ingredients different cultures use when preparing their dishes;
You'll also uncover a diverse range of vegetarian and vegan options in a few of the chapters, as well as a delicious treat that awaits you at the end of the cookbook!
Once you get the hang of making a few of your favorite recipes, you'll soon find out how much cheaper home-cooked meals are;
You will get/deepen your interest in cooking;
You will understand the spices and juices that provide a unique signature of the origin of the dishes;
You will increase your cooking skills;
You will overcome the fear / lazy factor that you may have had in cooking homemade and made meals;
You will understand the ingredients and methods to prepare your favorite meals (and we hope to improve them) so that they are as fun as the meals of your favorite restaurant!
Even if you're not good at cooking or don't have much time to prepare meals, don't worry, in this book we've also incorporated a "Difficulty Level" so that you can also see how challenging and time-consuming the recipe might be.
★★★★★★★
Are you ready to take on a new adventure with us as your guide? WELL, BUY THIS BOOK RIGHT NOW! get your aprons ready and find your first recipe to tackle, because the oven's already set to preheat!
Information
Format:Paperback / softback
Pages:190 pages
Publisher:Charlie Creative Lab
Publication Date:07/11/2020
Category:
ISBN:9781801230001