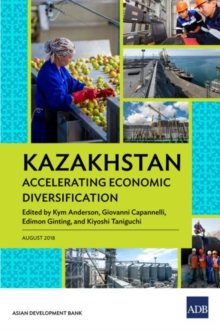 Kazakhstan : Accelerating Economic Diversification
Paperback / softback
Description
Relying on oil and gas alone, however, will not produce the long-run level of growth needed to meet this potential.
Reforms geared to improve the business climate, enhance competitiveness, and increase private sector participation are essential. This book examines reforms to accelerate economic diversification in the country.
This involves not only modernizing and using public resources in agriculture more efficiently to increase productivity, but also transitioning of manufacturing toward high-potential exports to help the country's industrial development and create employment opportunities.
Upgrading innovation of oilfield services and improving transport and logistics are important to increase participation in the global value chains.
Information
Format: Paperback / softback
Pages: 232 pages
Publisher: Asian Development Bank
Publication Date: 30/10/2018
Category: Economics
ISBN: 9789292612627
Also by Asian Development Bank | View all