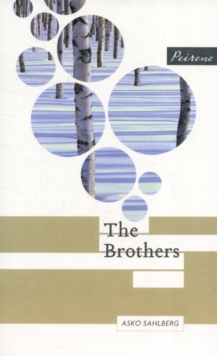 Description
Finland, 1809. Henrik and Erik are brothers who fought on opposite sides in the war between Sweden and Russia.
With peace declared, they both return to their snowed-in farm.
But who is the master? Sexual tensions, old grudges, family secrets: all come to a head in this dark and gripping saga. ------- Why Peirene chose to publish this book: 'This is a historical novel in miniature form.
It deals in dark passions and delivers as many twists as a 500-page epic. And if that were not enough, each character speaks in a distinct voice and expresses a unique take on reality.
I'm thrilled to be publishing a book that is as Finnish as a forest in winter - but that resembles a work from the American South: William Faulkner's As I Lay Dying.' Meike Ziervogel, Publisher
Information
Format: Paperback
Pages: 112 pages
Publisher: Peirene Press Ltd
Publication Date: 30/01/2012
ISBN: 9780956284068
Free Home Delivery
on all orders
Pick up orders
from local bookshops
Reviews
Showing 1 - 4 of 4 reviews.
Review by teresa1953
16/06/2015
This small novel packs a real punch. An epic tale told in intricate fashion, somehow crafted in to 122 pages.The author has created a dark and brooding atmosphere at an icy Finnish farm in 1809 following the Swedish-Russian war. There dwells two brothers, Henrik and Erik, their mother (The Old Mistress), the much put upon Farmhand and a couple of servants, one of them new to this unhappy household. Henrik and Erik have fought the war on opposite sides and the tension that exists within that farmhouse is palpable. Then there is the horse....or is it just a horse? The Farmhand has grave misgivings about the sense in Henrik owning such a malevolent beast which symbolises so much more than meets the eye.Sahlberg has created a web of intrigue and mystery which has been compared to a Shakespearean drama and William Faulkener's "As I Lay Dying" ....... well deserved comparisons I must say. It is a supremely talented writer who can create vivid characters with their faults, fears and foibles in such few words. I will not reveal the turn of events for fear of ruining the readers' enjoyment. Suffice it to say that you will be gripped and surprised, no shocked, as the story unfolds.A wonderful premiere to the fabulous Peirene's small epic series for 2012. They never fail to present us with beautifully translated European fiction which deserves to be enjoyed and not overlooked. Their dedication to this cause is admirable and pretty unique.
Review by writestuff
16/06/2015
The Finnish war, fought between Sweden and the Russian Empire from the winter of 1808 until the autumn of 1809, has come to its conclusion and Henrik, once a soldier fighting for Russia, has now come home to the family farm in Finland. He comes in the night, leaving footprints in the snow, and no one is happy to see him. Henrik's brother, Erik, fought with the Swedes during the war. He also married Anna, a woman who first turned Henrik's head. There are old grudges and family secrets. The brothers' mother worries about what will come of things, and she harbors her own dark secret.<i>I sensed that motherhood was terrible, perhaps sweet at times, but above all terrible. Not because one human child would be more horrendous than another, nor is it so that offspring cannot bring joy when little and be useful when grown up, but because motherhood makes it possible for future generations to be rocked by dark tragedies.</i> - from The Brothers, page 46 -There are other characters, too, in this story of betrayal and family saga – the farmhand who is observant and smart, the housemaid who may be more than what she seems, and a cousin named Mauri who bides his time and waits for opportunity to turn his life around. The brothers, Henrik and Erik, have a turbulent history which informs the novella with a brittle tension as the other characters weave through the narrative like dancers on a stage.The Brothers is a multi-layered and rich piece of literature where pieces of the characters lives come together like an intricate puzzle. As the story unfolds, there is an undercurrent of violence and a sense of apprehension begins to build. Asko Sahlberg shifts the narrative back and forth between the different and unique voices of the characters – a technique which allows the reader to gain a deeper understanding of what exactly has happened between these people who are mostly unlikeable and damaged. Many pieces of the story are introduced by one character, and then further elaborated by another. Although this might seem confusing, I found it to be highly effective in maintaining the pace of the novella.Many historical novels need hundreds of pages to do what Sahlberg does in a novella with just over one hundred pages. With writing which is tight, taut, and artfully drawn, Sahlberg reels the reader into a family drama set against the backdrop of post-war Finland in the dead of winter.I read this book in just over two hours, eagerly turning the pages to unravel this family's secrets. The novella is a translation from the Finnish, and it is beautifully rendered.This latest installment from Peirene Press is sure to delight readers who enjoy works in translation, but it will also appeal to those who love well-written literary fiction. Sahlberg is considered one of the best writers to have come out of Finland, and it is easy to see why. Based on its size The Brothers might seem like a nibble of literature, but it will surprise readers with its enormous depth and skillfully drawn characters.Highly recommended.
Review by AndrewBlackman
16/06/2015
The Brothers, by Finnish writer Asko Sahlberg, is the first in Peirene Press's series of the "Small Epic". The publisher also draws comparisons with Shakespeare and William Faulkner. No pressure, then.Surprisingly the book did not disappoint. It's only 122 pages but does pack in a lot of story, including among other things warring brothers, family betrayal, sexual tension, death, illness, gambling debts, bankruptcy, attempted fratricide, blackmail, prostitution and the 1809 war between Sweden and Russia. And yet it never feels like a very dramatic book. The elements of the story accumulate quietly, like snow falling in a Finnish forest.At first, in fact, the accumulation felt too soft for me. The novel is written in the alternating voices of each of the characters, and the voices didn't feel real for me – they seemed overly cryptic, deliberately withholding information while dropping hints about drama to come. They said things like:Yesterday I saw the footprints of a wolf at the edge of the snowy field. That was how I guessed. That was why I went outside, into the pale dawn.There's lots of that sort of thing, lots of hints and guesses and references to things we the reader don't know about. The older brother Henrik comes back from the war, his younger brother Erik is away, and both of these things are bad. There's a strong sense of foreboding, but nothing is revealed for a long time. Then the drama comes in an avalanche, although because most of it in flashback rather than in the timespan of the main narrative, it again has a somewhat muted feel. What would appear to verge on melodrama if recounted in real time comes to seem quite believable when delivered in flat remembrance.To be honest I didn't find the voices very distinct. Each section is preceded by a subheading to indicate who the narrator is, and without that I wouldn't have had a clue. The style throughout is very consistent, literary and often poetic, whether it's one of the brothers speaking or the wife or the vengeful cousin or the unnamed Farmhand. Only the mother stands out for being consistently out to lunch, writing about how well the hens are laying even as everything falls apart around her.There are several revelations at the end, and although one of them was not too surprising, the others were a genuine surprise. Things seem to be moving in a particular direction and Sahlberg takes us off in another one, unpredictable and, although it relies somewhat on a deus ex machina in the form of a sudden legacy from a long-lost relative in America, still handled well and completely believable.I've read all the Peirene novels so far (it's a relatively new publishing house, in its third year, focusing on short European novels in translation), and while this isn't my overall favourite (that honour goes to Veronique Olmi's Beside the Sea), it's right up there with the consistently high quality of the others, and doesn't feel out of place among the grand comparisons drawn in the cover blurb.
Review by parrishlantern
16/06/2015
The Brothers by Asko Sahlberg is set at the end of The Finnish War, fought between Sweden and the Russian Empire (Feb' 1808 – Sept' 1809) the result of this war was that the eastern third of Sweden was established as the autonomous Grand Duchy of Finland within the Russian Empire. The book starts with the brothers, who have fought on opposing sides, returning to their family farmhouse. With their return old scars resurface, old conflicts born out of past tragedies. The elder brother, Henrik, is embittered, having long been alienated from his family after first being cheated by a neighbour and then his younger brother Erik. This book manages within it's 122 pages to cover all those epic themes of treachery & conflict, whether through sexual tensions or those family secrets that simmer below the surface or whether contrasting the politics of war with those of family.As this tale unfolds, each character takes their turn in revealing more of the story in a series of dramatic monologues, that made me think of Alan Bennett's TV show Talking Heads, (written for BBC television -1988) creating a multiple narrative that's dark and full of a foreboding that is as dark and chilling as winter. In fact this whole book is as dark and dense as wading through deep snow, and like traipsing through this landscape, you feel you've been traipsing for ages and nothing has changed until you look up and find you've journeyed miles. This is a small book that portrays grand themes and yet does so by focusing it's lens on this family and it's brooding tale, where the passion burns bitter, another way it reminded me was in the similar themes of death, guilt and isolation.Asko Sahlberg, born 1964, has acquired a fame in Finland that has yet to be replicated in the English speaking world. He published his first novel in 2000 and has written steadily since then, completing his ninth work, The Brothers, in 2010.This was a wonderfully told tale, translated by Emily Jeremiah and Fleur Jeremiah, a multi-lingual mother and daughter translation team. Emily has an MA in Creative Writing and a PhD in German Studies. Fleur, her mother, is Finnish. They have worked together before, translating the poetry of Helvi Juvonen and Sirkka Turkka, this is their take on this book