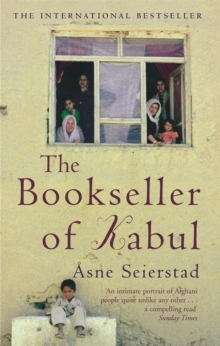 The Bookseller of Kabul
Paperback
Description
Two weeks after September 11th, award-winning journalist Asne Seierstad went to Afghanistan to report on the conflict there.
In the following spring she returned to live with an Afghan family for several months. For more than twenty years Sultan Khan defied the authorities - be they communist or Taliban - to supply books to the people of Kabul.
He was arrested, interrogated and imprisoned by the communists and watched illiterate Taliban soldiers burn piles of his books in the street.
He even resorted to hiding most of his stock in attics all over Kabul.
But while Khan is passionate in his love of books and hatred of censorship, he is also a committed Muslim with strict views on family life.
As an outsider, Seierstad is able to move between the private world of the women - including Khan's two wives - and the more public lives of the men. And so we learn of proposals and marriages, suppression and abuse of power, crime and punishment.
The result is a gripping and moving portrait of a family, and a clear-eyed assessment of a country struggling to free itself from history.
Information
Format: Paperback
Pages: 288 pages
Publisher: Little, Brown Book Group
Publication Date: 04/03/2004
Category: Biography: general
ISBN: 9781844080472
Free Home Delivery
on all orders
Pick up orders
from local bookshops
Reviews
Showing 1 - 5 of 16 reviews.
Previous | Next
Review by wendyrey
16/06/2015
Good read, if a bit claustrophobic. I remain unsure if this is the real story of Ms Seierstad experiences in Kabul , mostly fiction or a mixture of the two.
This is a non-fiction book which reads like a novel. The author lived with a family in afghanistan and the book is about them. Each chapter is from a different person's perspective and is like a small story in itself. A fascinating insight into an unconvetional family from Kabul.
Review by indygo88
16/06/2015
I felt the title of this book to be a bit misleading, as the story centers more around various members of the bookseller's family & didn't particularly focus on books, & only briefly touched on the impact books had on the people of Kabul & surrounding areas. However, that didn't particularly bother me. But this was yet another eye-opening book about Muslim culture. The more I read, the angrier I get. I've noticed a difference in male/female authors, as the oppression of women is much more evident when the book is written by a woman, as this one is. There was not so much a single plot to this story -- it was more like a sliver of the lives of various members of an extended family. I had trouble keeping some of the names straight, but that may just be me (& the fact that I read this on audio, which makes referencing back more difficult). All in all a very good read, although disturbing & unsettling.
Review by CaroTheLibrarian
16/06/2015
The author of this book is a journalist who has been based in Afghanistan. Fascinated by the lives of Sultan, a bookseller she meets, she spends time living with him and his extended family. Through their eyes and experiences she writes about life in Afghanistan both before, during and after Taleban rule. It is a fascinating inside view, although the number of characters ca, be rather confusing. Maybe I just wasn't concentrating, but list of characters or Khan familt tree might have helped me keep track.
Review by literarytiger
16/06/2015
I found The Bookseller of Kabul a difficult book to read. Not because I thought it was badly written - on the contrary, it was written in a very accessible way and the characters who peopled the story were vivid. Seierstad captured not just the people themselves, but their emotions as well - a difficult thing to do when you are living with them as an observer. What I found most difficult was the story it told - it opened my eyes to a culture I knew nothing about except what I had seen on the News.The life that women were expected to lead broke my heart. Although there were moments of abandon - like when Shakila and her family members dare to lift their burkhas in a store and try on a red lipstick - in general, women were forced into an existence which gave them little choice, no freedom and futures of virtual servitude. I was aware that I was casting my opinion based on my Western upbringing, but I couldn't help but feel both angry and sad that a woman was to be punished for something a simple as falling in love.Although I read the book through a haze of emotion, I thought it was fantastic - if nothing else to open my eyes to how lucky I am to live in England and have freedom and choice, and also to give me a greater understanding of a culture which is so different from my own.