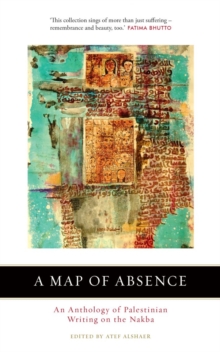 A Map of Absence : An Anthology of Palestinian Writing on the Nakba
Paperback / softback
Description
The Nakba or 'catastrophe' of 1948 saw hundreds of thousands of Palestinians dispossessed from their land to create the state of Israel, creating a refugee crisis that is still ongoing today.
This trauma is a central theme in much of the contemporary writing from Palestine, whose writers have been the vanguard of identity and representation of their people, rendering their depths, fears, longings and hopes in a variety of discourses and styles.
This unique collection brings together the finest poetry and prose on the Nakba by Palestinian writers over the last seventy years.
Covering three critical periods (pre-Nakba, post-Nakba and post-Oslo Accords), it includes translated excerpts of poems, novels, short stories and memoirs by major authors such as Mahmoud Darwish, Samira Azzam, Fadwa Tuqan and Edward Said, as well as by emerging Palestinian writers.
Showcasing the vibrant and distinctive literature of Palestine, this landmark anthology highlights the ongoing resonances of the Nakba.
Free Home Delivery
on all orders
Pick up orders
from local bookshops