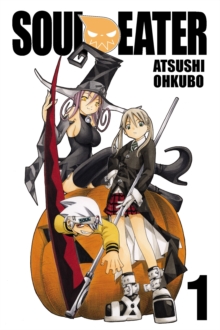 Soul Eater, Vol. 1
Paperback
Description
Maka is a scythe meister, working to perfect one particular scythe until it is good enough to become Death's Weapon -- the weapon used by Shinigami-sama, the spirit of Death himself.
As if that wasn't unusual enough, her scythe is a demon scythe called Soul Eater, which can change form from a scythe to a human-looking boy.
In order to make Soul Eater powerful enough to be Death's Weapon, he must eat the souls of 99 humans and 1 witch.
Along the way, the two of them face many different challenges, including a cat witch named Blair (who happens to have a thing for Soul) and a teacher who's been turned into a zombie (and wants him to join her!).
Her fellow students, like the shadow ninja weapon meister named Black Star who always needs to be the center of attention, aren't much help, either.
It'll be a miracle if Maka even survives, let alone manages to make Soul Eater into the Death Scythe.
Information
Format: Paperback
Pages: 208 pages
Publisher: Little, Brown & Company
Publication Date: 01/10/2009
Category: Comics and Graphic Novels
ISBN: 9780759530010
Free Home Delivery
on all orders
Pick up orders
from local bookshops
Reviews
Showing 1 - 2 of 2 reviews.
Review by TPauSilver
16/06/2015
Bought this book becasue I love the anime. The anime is an adaption of the manga and is pretty faithful at the start so there wasn't a lot of new stuff here. Soul Eater is the story of a technician Maka and her demon-scyth Soul Eater (who can take human form) as they try to turn Soul into the ultimate weapon, a Death-Scyth. We also get introduced to the other main characters, the assasin BlackStar who's a really big guy and his weapon Tsubaki and Death's son Death The Kid and his weapons twin guns Liz and Patty. Kid likes everything to be symetrical and perfect. It's a very amusing manga between the off the wall characters who never-the-less grown on you and Maka's papa, Death's weapon who is a little bit crazy...The only major area this volume differs from the anime is in some of the art (particularly Maka's character design) and in the amount of perversion. A lot of this does come through in it's base to the anime but it covered up and turned down. In the anime you don't get a clear image of Tsubaki or Blair naked in the bath, in the manga you do, for example.
Review by Dauntless
16/06/2015
This is a story about teenagers who happen to be grim reapers and the weapons of grim reapers. That's right, half of the main characters actually turn into physical weapons so that they can reap souls. It's actually quite a funny manga series.