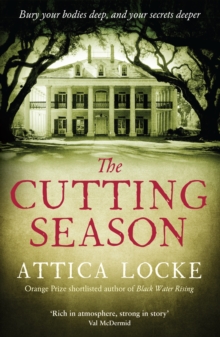 The Cutting Season
Paperback
Description
Just after dawn, Caren inspects the grounds of Belle Vie, the historic plantation house she manages.
Back at her office, the gardener calls to tell her she missed something.
Something terrible. At a distance, she didn't see. A young woman lying face down in a shallow grave, her throat cut clean. So there will be police, asking questions. The family who own Belle Vie will have to be told. There's a school group on the way to visit. Where is Donovan, the member of staff no one has seen? And all the time, Caren is thinking that there are only so many keys, only so many ways in to Belle Vie with its six foot high perimeter fence. And as she lives on site with her daughter, she wonders: how much danger are they in?A thriller with as much heart as it has pace, Attica Locke combines a riveting mystery with a shattering story of how our history is never just the past.
Information
Format: Paperback
Pages: 352 pages
Publisher: Profile Books Ltd
Publication Date: 04/07/2013
ISBN: 9781846688041
Free Home Delivery
on all orders
Pick up orders
from local bookshops
Reviews
Showing 1 - 1 of 1 reviews.
Review by AdonisGuilfoyle
16/06/2015
Another library shelf lottery read - because, on a personal tangent, finding new and different books is about the only perk of my job these days. Anyway, I did enjoy this quasi-historical murder mystery, set on a Louisiana plantation in the present day, even if the pacing was a little off. Reading about the Deep South is one of my literary weaknesses, coming from the UK and having only ever visited Florida for a fortnight's holiday. The descriptions of humid heat and thunderstorms, mouth-watering local cuisine and almost tangible aromas ('the cane, like cut grass and sweet milk, damp and terrestrial, the scent of southern Louisiana'), not to mention the history and culture, create a powerful atmosphere that supports the story. Belle Vie, the plantation, is also captivating, more a central character than a location (I was more concerned for the house and grounds than solving the mystery, to be honest).The plot could have been tighter, I feel. Dipping into Caren's backstory might help get a sense of her life, but since she is only really there to solve the crime, I was impatient to return to the story, whenever the narrative started delving into her relationship with Eric, daughter Morgan, or her late mother. The murder was cleverly handled, though, with a couple of convincing red herrings and a scapegoat. And I'm strangely glad that there wasn't a neat conclusion with regards to Caren and the future of Belle Vie.An engrossing, evocative mystery, recommended for the scenery alone!