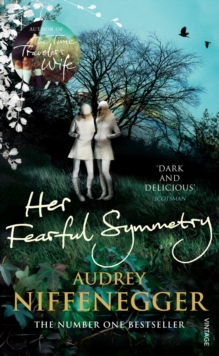 Her Fearful Symmetry
Paperback
Description
When Elspeth Noblin dies she leaves her beautiful flat overlooking Highgate Cemetery to her twin nieces, Julia and Valentina Poole, on the condition that their mother is never allowed to cross the threshold.
But until the solicitor's letter falls through the door of their suburban American home, either Julia nor Valentina knew their aunt existed.
The twins hope that in London their own, separate, lives can finally begin but they have no idea that they've been summoned into a tangle of fraying lives, from the obsessive-compulsive crossword setter who lives above them to their aunt's mysterious and elusive lover who lives below them and works in the cemetery itself.
As the twins unravel the secrets of their aunt, who doesn't seem quite ready to leave her flat, even after death, Niffenegger weaves together a delicious and deadly ghost story about love, loss and identity.
Information
Format: Paperback
Pages: 496 pages
Publisher: Vintage Publishing
Publication Date: 05/07/2010
ISBN: 9780099524175
Free Home Delivery
on all orders
Pick up orders
from local bookshops
Reviews
Showing 1 - 5 of 7 reviews.
Previous | Next
Review by phh333
16/06/2015
I didn't particularly like any of the female characters. The story was interesting to a point, but I didn't like the choices the characters made. The women all seemed very self-centered. The ending was disappointing.
Review by litaddictedbrit
16/06/2015
When I was paying for this one, the guy at the till was chatting away about how great he thought this was and how Niffenegger did so much research into Highgate Cemetry while writing it that she now acts as a tour guide there. I love books which include history of a location, culture or featured historical figure so this was a big selling point to me.The first thing I noticed about this book was how heavily the story was invested in the characters. For the most part, the novel takes place in the house that contains the flat that was once (and in a way still is) inhabited by Elspeth Noblin and that is inherited by the Poole twins, the flat of Elspeth's former lover Robert and the flat of utterly lovable OCD sufferer Martin and his wife Marijke. So are the characters worth the time? At first, I wasn't so sure. I loved Martin from the start and his vulnerability is very reminscent of The Curious Incident of the Dog in the Night Time and really sympathised with his long suffering wife. Valentina and Julia were the weak links for me. Oddly for me, my first impressions changed with the characters and the characters that I disliked at first became my favourites. This leant the fantastical story an air of realism which I loved.Obviously, the unique point of this story is that it is a "ghost story". Most modern novels skirt around the issue of a ghost and hint at something supernatural (I'm thinking Sarah Waters' 'The Little Stranger'). This book includes the Elspeth's perspective as a ghost which is unique and fascinating, not least because of the effect this has on all of the other characters. Yes, at times it's a teensy bit too much but overall I liked the effect. The pace of the novel really picks up from about half way in and there are a good few twists to keep things rolling. When I say twist, they aren't the kind of twists that jump out of nowhere and smack you round the face while you're looking in the other direction - they're hinted at so that just before they happened I found myself thinking "No way is…going to happen" - and it did! I like that as it feels more real and helps me think that I've really gotten to know the characters so this was a plus for me.Overall: This wasn't as memorable as 'The Time Traveller's Wife' but it was an interesting atypical ghost story looking at lost love and how it can continue to affect all those involved after death - I'd recommend it to all readers looking for a wee bit of a tear-jerker...although it's not all as gloomy as it sounds!
Review by timtom
16/06/2015
In a house overlooking the deliciously gothic Highgate Cemetery in London, two young American twins have moved in the appartement of their recently deceased aunt. There, they start a new life of explorations: of the flat itself, London, their own relationship with one another, and some disturbing family secrets. Not to mention the neighboring cemetery, of course... and its sweet, tea-drinking, welcoming guides, one of whom turns out to have been their aunt's lover and is actually living in the same house as them. But why haven't they met him earlier? Why are all windows of the upper flat sealed up? Who will catch the Kitten of Death? Where are Aunt Elspeth's missing diaries? And by the way, is she *really* dead?This is a ghost story like you've never read before, it's delightful, original and witty, with exceedingly sympathetic characters. Yet it somewhat lacks the deepness and spark of utter genius that the "Time Traveller's Wife" has, making this a 3.5 star novel only because the comparison with Nyffenegger's masterpiece is hard to match :)
Review by overthemoon
16/06/2015
Normally I don't have problems suspending belief, but these ghosts were hard to accept, just too far-fetched. I did like the setting of Highgate cemetery.
Review by mrn945
16/06/2015
As you know, this is written by the same author as the Time Travellers Wife. While I enjoyed Ms. Niffenegger's first book, Her Fearful Symmetry was significantly better in so many different ways.First off, whatever you're expecting when you pick up the book, forget. There is so many different nuances and twists to this novel that you have to throw all expectations out the window.Yes, it is a love story. Yes, it is a ghost story. It's also a fascinating history of a London cemetery and an examination of the relationship between twin's.But the novel is so much more that just those descriptive sentences. There is something dark and twisted to the story that you don't expect. I kept second guessing my plot expectations - and just when you think you've figured out the story she throws something new at you. The book keeps you on your toes, and, if you're like me, you end up reading nearly all of it in one sitting.The love story is unusual, the ghost story literally haunting. This was just a brilliantly written book. Ms. Niffenegger has an incredible talent for shaping phrases. Even if you ignore the interesting plot-line, the words themselves are sufficiently entrancing.I keep tiptoeing around a description of this book, but the fact of the matter is that I can't find an appropriate way to talk about it. There is just something really special about this book, and the fact that it hasn't gotten more publicity is shameful. I urge you to read this book. In fact, given the topic, do it today, before Halloween. Don't worry, there is plenty of time to finish it!