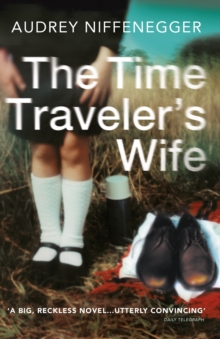 The Time Traveler's Wife
Paperback
Description
This is the extraordinary love story of Clare and Henry who met when Clare was six and Henry was thirty-six, and were married when Clare was twenty-two and Henry thirty.
Impossible but true, because Henry suffers from a rare condition where his genetic clock periodically resets and he finds himself pulled suddenly into his past or future.
In the face of this force they can neither prevent nor control, Henry and Clare's struggle to lead normal lives is both intensely moving and entirely unforgettable.
Information
Format: Paperback
Pages: 560 pages
Publisher: Vintage Publishing
Publication Date: 29/05/2004
ISBN: 9780099464464
Free Home Delivery
on all orders
Pick up orders
from local bookshops
Reviews
Showing 1 - 5 of 50 reviews.
Previous | Next
Review by innominate
16/06/2015
A good idea, pushed too far.The Good: The basic conceit of The Time Traveller's Wife is an interesting one. For the most part the author deals well with the demands placed on her to maintain suspense while it is clear that at least one character in the book must know how it ends. The writing itself is predominantly deftly managed, and the reader's attention is well-held (the sequence of events around the Christmas visit caused me to miss my stop on the train home, I was so engrossed).The Not-So-Good: Once finished, it is too clear that this is a first novel -- it reeks of the creative writing class. A number of the episodes did not serve a clear purpose, apart from padding the story out. Also (unfortunately) it is very difficult to empathise with a time-travelling character. I finished the book with a sense of relief, which is an unfortunate emotion.I would recommend you to read this book, and to look out for future works by the same author. If you can, borrow it from someone (or a library), or find a second-hand copy, rather than buying your own.
Review by alarra_c
16/06/2015
A love story out of chronological order, a good solid read about a relationship that literally overcomes the barrier of time
Review by Fantasma
16/06/2015
This was another book that I've been hearing so much fuss about that at some point I just HAD to buy it. Then it got lost in the TBR pile for a while, as so many others, it seems there's always something more interesting today than the one that catched our attention yesterday.Now I decided this had to be one of the books chosen for the Unread Authors Challenge I joined, and it turned out to be the 2nd book of this year, and, I'm already certain, one of the best of 2008.At first I was really baffled by all that time travelling thing – can't he control it?! How does he keep coming to Clare if he doesn't?! All that back and forward, knowing the dates when he'll be travelling even though he can't (can he?!) control it…. It really was mind blowing, maybe because I was tired + wanting to understand everything ahead of time + and not ever satisfied with just accepting things has they are :o) As the book goes on things become clearer and we just get so used to going past and present that everything starts to look normal and we stop wondering how/why/when. Another thing that I kept thinking was what developments in the story could the author make to keep the book interesting for more than 500 pages. What, just time travelling? So what?! ;) But we really get so involved in Harry and Clare's lives that the ends seems a trick, that all of them will come back, as Harry always does, to keep talking to us. I loved the caracters and the way everything is told, and call me a hopeless romantic, but it brings tears to my eyes when I think of how much Clare loves Harry and what it must be like to just spend your entire life waiting, for someone to come, for someone to not disappear, for someone to be *here*.
Review by mydogatebob
16/06/2015
One of the best books I have ever read. The timeline of this can make your head hurt, but it is a tale of love and how, sometimes, it is the biggest thing you will ever experience. Clare is an ordinary girl. Henry is an ordinary boy with a problem. He has sometimes disappears with no warning (and no clothes) to a different time. Their story is fascinating to read, and both a happy and sad one. This book will make you cry, but it's worth it.
Review by iammbb
16/06/2015
This book is one of my top five favorite books.Of course, my list of top five favorite books probably contains more than five books at any given time.We had book club again last night and this was our chosen book. So, even though my list of books to be read is longer than even I know, I had cause to read this one again. Yay!I'm almost always intrigued by narratives woven around the idea of time travel. The philosophical questions time travel engenders and each creator's way of answering those questions fascinates.The work in crafting Henry and Clare's love story is wonderful. Niffenegger weaves joy, longing, redemption, pain, grief, and humor into a confusing, riveting, ingenious tale.To a woman, our book club liked the book. Some did find the book a bit hard at the start, a complaint my mom echoed when I gave her the book as a gift.Among other topics, the book led us into a spirited discussion of morality and the defensibility of shifting the lines of morality in the pursuit of self-preservation. . . . there is only free will when you are in time, in the present. Henry DeTamble