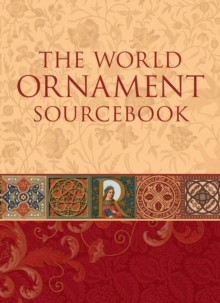 The World Ornament Sourcebook
Hardback
Description
This amazing compilation of decorative motifs from around the world is unparalleled in its range of coverage with examples from early Greek, Roman and Egyptian designs through those of the 19th century.
Geographically diverse, the book covers ornamentation from Asia and Africa as well as Europe and the Americas. Originally published in the 19th century in two volumes, this work by Auguste Racinet was an invaluable resource to artists, designers and architects when it was first published and continues to be so today.
The period when Racinet's volumes were being published for the first time (1869 through 1887) saw a renewed interest in classicism and the decorative arts and Racinet's work was certainly influential.
With 220 colour plates comprising over 1500 decorative motifs derived from illuminated manuscripts, jewellery, tiles, weaponry, wall painting and other sources, the book is not only inspirational, but also serves as both a visual reference of the motifs and an insight into the aesthetics of different cultures and periods.
We are pleased to offer this opulent and beautifully colourful title in a combined single volume. A book that every graphic designer, architect, fashion designer or artist must have, it will also appeal to those interested in aesthetics and visual culture.
Free Home Delivery
on all orders
Pick up orders
from local bookshops