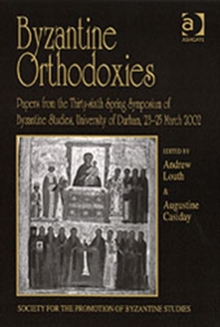 Byzantine Orthodoxies : Papers from the Thirty-sixth Spring Symposium of Byzantine Studies, University of Durham, 23-25 March 2002
Hardback
Description
The Byzantine Empire - the Christianized Roman Empire - very soon defined itself in terms of correct theological belief, 'orthodoxy'.
The terms of this belief were hammered out, for the most part, by bishops, but doctrinal decisions were made in councils called by the Emperors, many of whom involved themselves directly in the definition of 'orthodoxy'.
Iconoclasm was an example of such imperial involvement, as was the final overthrow of iconoclasm.
That controversy ensured that questions of Christian art were also seen by Byzantines as implicated in the question of orthodoxy. The papers gathered in this volume derive from those presented at the 36th Spring Symposium of Byzantine Studies, Durham, March 2002.
They discuss how orthodoxy was defined, and the different interests that it represented; how orthodoxy was expressed in art and the music of the liturgy; and how orthodoxy helped shape the Byzantine Empire's sense of its own identity, an identity defined against the 'other' - Jews, heretics and, especially from the turn of the first millennium, the Latin West.
These considerations raise wider questions about the way in which societies and groups use world-views and issues of belief to express and articulate identity.
At a time when, with the enlargement of the European Union, questions of identity within Europe are once again becoming pressing, there is much in these essays of topical relevance.
Information
Format: Hardback
Pages: 250 pages
Publisher: Taylor & Francis Ltd
Publication Date: 28/04/2006
Category: The Early Church
ISBN: 9780754654964
Also in the Publications of the Society for the Promotion of Byzantine Studies series | View all