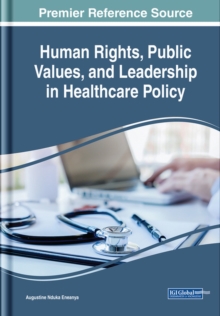 Human Rights, Public Values, and Leadership in Healthcare Policy
Hardback
Description
The legitimacy of any national health system depends on how it serves the interest of the poorest and most vulnerable people.
As such, a commitment to equity should be at the heart of human rights discussions regarding universal health coverage. Human Rights, Public Values, and Leadership in Healthcare Policy is an essential reference source on the importance of access to timely, quality, and affordable healthcare, and how overt or implicit discrimination in the delivery of health services violates fundamental human rights and can have serious health consequences.
This publication covers current health-policy debates and reforms that focus on extending universal health coverage, decreasing the growth of costs through improved efficiency, and expanding prevention and wellness of programs.
While highlighting topics such as authority hierarchy, HIV/AIDS experiences, and veterans' mental health, this publication is ideally designed for health practitioners/professionals, scholars, researchers, institutions, students, consultants, and policymakers.
Information
Format: Hardback
Pages: 262 pages
Publisher: IGI Global
Publication Date: 30/10/2018
Category: Human rights
ISBN: 9781522561330