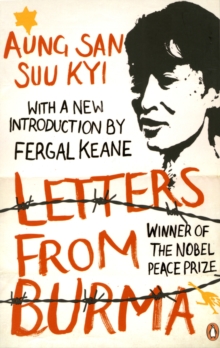 Letters from Burma
Paperback
Description
Letters from Burma - an unforgettable collection from the Nobel Peace prize winner Aung San Suu KyiIn these astonishing letters, Aung San Suu Kyi reaches out beyond Burma's borders to paint for her readers a vivid and poignant picture of her native land.Here she celebrates the courageous army officers, academics, actors and everyday people who have supported the National League for Democracy, often at great risk to their own lives.
She reveals the impact of political decisions on the people of Burma, from the terrible cost to the children of imprisoned dissidents - allowed to see their parents for only fifteen minutes every fortnight - to the effect of inflation on the national diet and of state repression on traditions of hospitality.
She also evokes the beauty of the country's seasons and scenery, customs and festivities that remain so close to her heart.Through these remarkable letters, the reader catches a glimpse of exactly what is at stake as Suu Kyi fights on for freedom in Burma, and of the love for her homeland that sustains her non-violent battle.Includes an introduction from Fergal Keane'Aung San Suu Kyi has become a global symbol of peaceful resistance, courage and apparently endless endurance' Guardian'A real hero in an age of phony phone-in celebrity, which hands out that title freely to the most spoiled and underqualified' Bono, TimeAung San Suu Kyi is the leader of Burma's National League for Democracy.
She was placed under house arrest in Rangoon in 1989, where she remained for almost 15 of the 21 years until her release in 2010, becoming one of the world's most prominent political prisoners.
She is also the author of the collection of writings Freedom from Fear.
Information
Format: Paperback
Pages: 224 pages
Publisher: Penguin Books Ltd
Publication Date: 04/02/2010
Category: Biography: general
ISBN: 9780141041445
Free Home Delivery
on all orders
Pick up orders
from local bookshops
Reviews
Showing 1 - 2 of 2 reviews.
Review by jcbrunner
16/06/2015
In the wake of Luc Besson's film The Lady and her own delayed Nobel Peace Prize acceptance speech of Aung San Suu Kyi in June 2012 I wanted the listen to more of her voices. This slim collection of 52 columns/letters written in 1995, that is some time after having been awarded the Nobel Prize, for the Japanese newspaper Mainichi Shimbun starts slow with tourist sites, people and food vignettes of Burma. We read about Suu Kyi receiving and paying visits, exchanging gifts and stories. More like a mother to her country than the leader of her party and opposition to the government.Halfway in, the tone of the letters shift and the ugly sides of corruption, economic mismanagement and human right violations in Burma are revealed. While she hat to endure house arrests, it was her associates in prison who had to endure and died from the mistreatment of the ruling junta, aptly named SLORC. Her associates' heroic acceptance of repeated prison terms in atrocious conditions demonstrates a Rocky-like endurance to absorb any punishment the junta metes out. One wonders whether the current reforms will succeed and repay the sacrifices made on its behalf or end in repression. Compared to earlier pictures, Aung San Suu Kyi has visibly aged. Will she have the continued strength to carry the movement forward and accept executive duties? Or will she end Gandhi-like only partially witnessing the change? This collection of letters, while not too political, present her fair approach in the spirit of Lincoln: "With malice toward none, with charity for all, with firmness in the right as God gives us to see the right, let us strive on to finish the work we are in, to bind up the nation's wounds, to care for him who shall have borne the battle and for his widow and his orphan, to do all which may achieve and cherish a just and lasting peace among ourselves and with all nations."
Review by Tony2704
16/06/2015
Somewhat repetitive but an interesting insight into life in Burma at this time. The book left me wanting to know more and therefore i felt unfulfilled