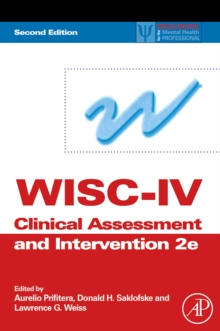 WISC-IV Clinical Assessment and Intervention
Hardback
Description
The Wechsler Intelligence Scale for Children: Fourth Edition (WISC-IV) is one of the most often used measures to assess intelligence and cognitive functions in children, ages 6-16 years.
The second edition of the WISC-IV Clinical Assessment and Intervention will include new information obtained from the clinical use of the WISC-IV in practice.
Information on the basic use of the assessment tool is condensed from three chapters into one, with four new chapters discussing how to use and interpret WISC-IV with additional clinical populations.
These new populations include pervasive Developmental Disorders including autism, Social and emotional disorders, psychiatric disorders, and medical disorders that may affect intelligence.
An additional new chapter discusses intervention planning across patient populations.
Each of the chapters (revised original chapters and new chapters) will additionally include case studies including diagnosis and intervention. Overall, the material in the book is 65% changed, new, and updated.
These changes make the second edition better able to meet a clinician's needs in using and interpreting this test.
Also in the Practical Resources for the Mental Health Professional series | View all