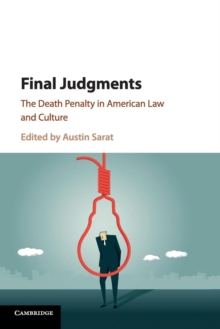 Final Judgments : The Death Penalty in American Law and Culture
Paperback / softback
Description
Final Judgments: The Death Penalty in American Law and Culture explores the significance and meaning of finality in capital cases.
Questions addressed in this book include: how are concerns about finality reflected in the motivations and behavior of participants in the death penalty system?
How does an awareness of finality shape the experience of the death penalty for those condemned to die as well as for capital punishment's public audience?
What is the meaning of time in capital cases? What are the relative weights according to finality versus the need for error correction in legal and political debates? And, how does the meaning of finality differ in capital and non-capital (LWOP) cases?
Each chapter examines the idea of finality as a legal, political, and cultural fact.
Final Judgments deploys various theories and perspectives to explore the death penalty's finality.
Information
Format: Paperback / softback
Pages: 191 pages
Publisher: Cambridge University Press
Publication Date: 13/12/2018
Category: Penology & punishment
ISBN: 9781316609019