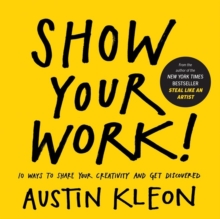 Show Your Work! : 10 Ways to Share Your Creativity and Get Discovered
Paperback
Description
In his New York Times bestseller Steal Like an Artist, Austin Kleon showed readers how to unlock their creativity by stealing from the community of other movers and shakers.
Now, in an even more forward-thinking and necessary book, he shows how to take that critical next step on a creative journey getting known.
Show Your Work! is about why generosity trumps genius. It s about getting findable, about using the network instead of wasting time networking.
It s not self-promotion, it s self-discovery let others into your process, then let them steal from you.
Filled with illustrations, quotes, stories, and examples, Show Your Work! offers ten transformative rules for being open, generous, brave, productive.
In chapters such as You Don t Have to Be a Genius; Share Something Small Every Day; and Stick Around, Kleon creates a user s manual for embracing the communal nature of creativity what he calls the ecology of talent. From broader life lessons about work (you can t find your voice if you don t use it) to the etiquette of sharing and the dangers of oversharing to the practicalities of Internet life (build a good domain name; give credit when credit is due), it s an inspiring manifesto for succeeding as any kind of artist or entrepreneur in the digital age. "
Free Home Delivery
on all orders
Pick up orders
from local bookshops
Reviews
Showing 1 - 5 of 7 reviews.
Previous | Next
Review by zzshupinga
16/06/2015
ARC provided by NetGalleyBestselling author of Steal Like an Artist, Austin Kleon, brings back his unique writing style to Show Your Work! to explain why its more beneficial for you and your career to share you knowledge and skills, than hide it and keep it secret. Kleon shares his ten simple rules for being open and productive with short fantastic book, that is filled with illustrations, quotes, and stories to help make you better be able to share your story with the world. Kleon's main points to us is that you're not grandstanding or self-promoting yourself, but that you're being awesome and findable, and letting others learn from you. All of this helps you become more well known, as well giving back to the community. One of the first lessons that he shares is about living life to the fullest, look at those that have come before us and passed on, what was awesome about them? He shares the tale of George Lucas who had a near death experience at 18, which helped make him who he is today. Another important lesson, you need? Document what you do. Commander Hadfield, the Canadian astronaut that became known around the world, wanted.The most important thing that stuck out to with me was whenever you get a grade back, a project back ask yourself "so what?" You got an a or an attaboy, so what? Does it define you? Does it make you who you are? If yes great! If it doesn't, pick yourself up and move on, so that you don't feed the trolls, even the ones that live in your own head.There are so many stories that I could share from this great little book, because that's what its all about is sharing a story. I can't tell you that I'll reread this book every day, but it will live on my bookshelf as one to keep close by and pull out when I need inspiration. I give the book 4 out of 5 stars and would recommend it to everyone, for a bit of inspiration in their life.
Review by figre
16/06/2015
This is definitely one of those "your mileage may differ books." You know the kind: Others tell you it is the greatest thing since sliced book marks, you dive in with great expectations, you blaze through the pages, and you get out of the other end saying "What's all the fuss", "I could've done that", or "I want that part of my life back." (The last complaint is seldom legitimate as such books are usually so slim they do not really take that much time.)And when I started this book I thought it was going to fall into that category – I thought it would be a poor follow-up to Kleon's book Steal Like an Artist. (Let me pause here and let you know that the previous book was a game changer for me.) Recognizing that I may not have be in the exact frame of mind for this type of book and further realizing that the way to approach what Kleon was saying was not by trying to blast through the entire thing – rather, taking a moment after each second and thinking about what was being said - I read a couple of chapters and then set it aside, then another chapter and set it aside, and so one.Maybe it helped that, at the same time Kleon happened to be touring with the book and I got to hear him speak. Maybe it helped that I happened to watch a couple of his videos at the same time. Whatever the reason, every time I came back to the book, I found I was getting more out of it – each visit had more impact, more to share with me, more for me to take from it. And now, having finished the entire book over a leisurely couple of weeks, I can tell you it has been the source of at least two blog posts, a column in the magazine I write for, and additional content for my creativity and leadership presentations. Some may see it as a rehashing – a conglomeration of other people's concepts. But I would argue that Kleon has taken these concepts and put them together into a new set of ideas that are really about people developing their creative sides and, maybe more importantly, finding ways to promote themselves and their creativity without being a jerk about it. (See the section on vampires.)This book contains important insights about creativity and moving yourself forward that everyone should take note of. And it contains nuggets that can be applied to just about any aspect of whatever work you are doing.Your mileage may differ. I got a lot per gallon.
Review by medievalmama
16/06/2015
This book should be adapted as the text for the introductory English class for all colleges and universities -- it makes the information that I have been trying to teach from outmoded books for 18 1/2 years easily accessible to ALL students, and teaches what they need to know to be successful in college and in life.Deceptively simple. Brilliant in its simplicity! Up to date in formatting -- it is a Workman publication, after all. Uses graphics, drawings, quotations, photographs as well as written examples.Was invited by a friend to hear Kleon give a talk last night -- went, listened, looked at the book, fell in love -- with the text.214 pages. $11.95.
Review by sbenne3
27/08/2015
I saw the author speak so got an in-depth understanding of some of his key points. I enjoyed reading this quick reminder about fostering creativity in any form of work you are doing. I am also much more inspired to "share" in some form . . . . started with a daily journal and working toward sharing my ideas on social media.
Review by margaret.pinard
16/06/2015
Great ideas on how to be someone who shares art with the world as it's being made, without losing your MIND. :)