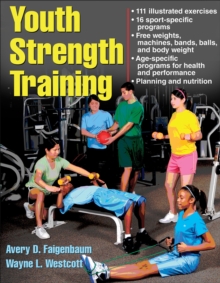 Youth Strength Training
Paperback / softback
Description
The research is clear: children as young as seven can gain significant benefits for health, fitness and sport participation through a sound, scientifically-based strength-training program.
Authors Avery Faigenbaum and Wayne Westcott are recognized as leading authorities on fitness and in this book they use their extensive experience as teachers, professors, researchers, athletes and coaches to provide readers with the most effective and safe programs possible.
Crucially, this book is designed and written specifically for young people; it's not just another watered-down adult title.
While the first edition focused on the safety and efficacy of youth strength training, this new edition evidences the authors' new research for designing more efficient, enjoyable, productive and practical programs of strength exercise for young people of different ages and abilities.
Today, one out of three children are challenged by excessive body fat and these boys and girls are poorly suited for endurance-type exercise which they are typically asked to perform and which they are typically avoid at all costs. Fortunately, "Youth Strength Training" provides a myriad of resistance exercises which they tend to enjoy more, most likely because they compare more favorably with their lighter peers and the training effects are highly reinforcing (looking better, feeling better, functioning better).
Information
Format: Paperback / softback
Pages: 256 pages, 7 illustrations, 296 photos
Publisher: Human Kinetics Publishers
Publication Date: 18/08/2009
Category: Sports training & coaching
ISBN: 9780736067928
Free Home Delivery
on all orders
Pick up orders
from local bookshops