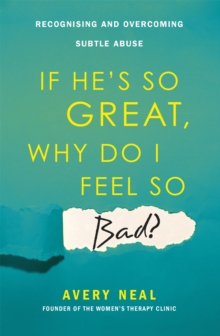 If He's So Great, Why Do I Feel So Bad? : Recognising and Overcoming Subtle Abuse
Paperback / softback
Description
"The message Avery Neal conveys in this book couldn't be more timely." From the Foreword by Lois P.
Frankel, New York Times bestselling author of Nice Girls Don't Get the Corner OfficeAre you a victim of subtle abuse?
Are you always the one apologising or constantly questioning and blaming yourself?
Do you often feel confused, frustrated, and angry? If you answered yes to any of these questions, you're not alone.
Nearly half of all women-and men-experience psychological abuse without realizing it.
Manipulation, deception and disrespect leave no physical scars, but they can be just as traumatic as physical abuse. In this ground-breaking book, Avery Neal, founder of the Women's Therapy Clinic, helps you recognize the warning signs of subtle abuse.
As you learn to identify patterns that have never made sense before, you will be better equipped to make changes.
From letting go of fear to setting boundaries, whether you're gathering the courage to finally leave or learning how to guard against a chronically abusive pattern, If He's So Great, Why Do I Feel So Bad? will help you enjoy a happy, healthy, fulfilling life, free of shame or blame. "The new gold standard in abuse recovery, allowing readers to break free from old patterns and reclaim their lives." Jackson MacKenzie, author of Psychopath Free
Information
Format: Paperback / softback
Pages: 272 pages, 1 b/w illustration
Publisher: Little, Brown Book Group
Publication Date: 22/11/2018
Category: Sexual abuse & harassment
ISBN: 9781472142726
Also by Avery Neal