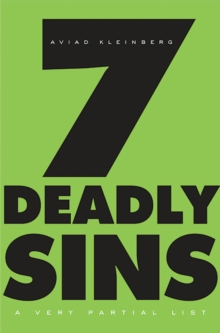 Seven Deadly Sins : A Very Partial List
Paperback / softback
Description
There is no society without right and wrong. There is no society without sin. But every culture has its own favorite list of trespasses.
Perhaps the most influential of these was drawn up by the Church in late antiquity: the Seven Deadly Sins.
Pride, sloth, gluttony, envy, anger, lust, and greed are not forbidden acts but the passions that lead us into temptation.
Aviad Kleinberg, one of the most prominent public intellectuals in Israel, examines the arts of sinning and of finger pointing.
What is wrong with a little sloth? Where would haute cuisine be without gluttony? Where would we all be without our parents' lust? Has anger really gone out of style in the West? Can consumer culture survive without envy and greed? And with all humility, why shouldn't we be proud? With intellectual insight and deadpan humor, Kleinberg deftly guides the reader through Jewish, Christian, and Greco-Roman thoughts on sin.
Each chapter weaves the past into the present and examines unchanging human passions and the deep cultural shifts in the way we make sense of them.
Seven Deadly Sins is a compassionate, original, and witty look at the stuff that makes us human.
Information
Format:Paperback / softback
Pages:208 pages
Publisher:Harvard University Press
Publication Date:30/10/2010
Category:
ISBN:9780674057326