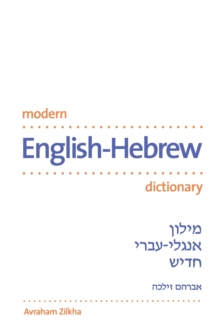 Modern English-Hebrew Dictionary
Paperback / softback
Description
This comprehensive and up-to-date English-Hebrew dictionary is designed for easy use, speed, and accuracy.
Its 30,000 entries include many contemporary technical terms, recently coined Hebrew words, and translations for common idioms.
It is the first English-Hebrew dictionary to address the need of its users to match words that have multiple meanings with their exact Hebrew equivalents.
By listing various meanings of each English word and providing the corresponding Hebrew for each, the Modern English-Hebrew Dictionary enablesits readers to capture the appropriate meaning of the English word to be translated with greater accuracy and confidence than ever before. The dictionary features:30,000 entriesuser-friendly listings for accurately translating words with multiple meaningsmany newly coined and slang wordscommon idiomsdetailed preposition entrieshandy, easy-to-read formatclear, meticulous vocalization of Hebrew wordsuseful acronymsgender identification and plural forms of irregular nouns