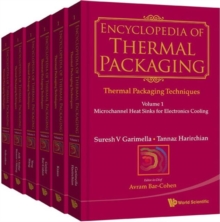 Encyclopedia Of Thermal Packaging, Set 1: Thermal Packaging Techniques (A 6-volume Set)
Hardback
Description
Please click here for information on Set 2: Thermal Packaging Tools /remove Thermal and mechanical packaging - the enabling technologies for the physical implementation of electronic systems - are responsible for much of the progress in miniaturization, reliability, and functional density achieved by electronic, microelectronic, and nanoelectronic products during the past 50 years.
The inherent inefficiency of electronic devices and their sensitivity to heat have placed thermal packaging on the critical path of nearly every product development effort in traditional, as well as emerging, electronic product categories.Successful thermal packaging is the key differentiator in electronic products, as diverse as supercomputers and cell phones, and continues to be of pivotal importance in the refinement of traditional products and in the development of products for new applications.
The Encyclopedia of Thermal Packaging, compiled in multi-volume sets (Set 1: Thermal Packaging Techniques, Set 2: Thermal Packaging Tools, Set 3: Thermal Packaging Applications, and Set 4: Thermal Packaging Configurations) will provide a comprehensive, one-stop treatment of the techniques, tools, applications, and configurations of electronic thermal packaging.
Each of the author-written sets presents the accumulated wisdom and shared perspectives of a few luminaries in the thermal management of electronics.Set 1: Thermal Packaging TechniquesThe first set of the Encyclopedia, Thermal Packaging Techniques, focuses on the technology "building blocks" used to assemble a complete thermal management system and provide detailed descriptions of the underlying phenomena, modeling equations, and correlations, as well as guidance for achieving the optimal designs of individual "building blocks" and their insertion in the overall thermal solution.
Specific volumes deal with microchannel coolers, cold plates, immersion cooling modules, thermoelectric microcoolers, and cooling devices for solid state lighting systems, as well as techniques and procedures for the experimental characterization of thermal management components.
These "building blocks" are the essential elements in the creation of a complete, cost-effective thermal management system.The four sets in the Encyclopedia of Thermal Packaging will provide the novice and student with a complete reference for a quick ascent on the thermal packaging ';learning curve,'; the practitioner with a validated set of techniques and tools to face every challenge, and researchers with a clear definition of the state-of-the-art and emerging needs to guide their future efforts.
This encyclopedia will, thus, be of great interest to packaging engineers, electronic product development engineers, and product managers, as well as to researchers in thermal management of electronic and photonic components and systems, and most beneficial to undergraduate and graduate students studying mechanical, electrical, and electronic engineering.
Foreword(s)Foreword (English) (85 KB)Foreword (Japanese) (342 KB)
Information
Format: Hardback
Pages: 1580 pages
Publisher: World Scientific Publishing Co Pte Ltd
Publication Date: 04/02/2013
Category: Mechanical engineering & materials
ISBN: 9789814313780
Free Home Delivery
on all orders
Pick up orders
from local bookshops