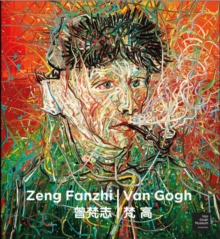 Zeng Fanzhi - Van Gogh
Hardback
Description
The Van Gogh Museum invited the celebrated Chinese artist Zeng Fanzhi to present recent work inspired by Vincent van Gogh.
Although the two artists differ greatly in historical period and place of origin, their art is very similar in substance.
This similarity is apparent in the themes that Van Gogh and Zeng both perpetually explore, such as style, identity and personality, and the question of self-control and the outside world's degree of control over the individual.
It is evident too in their powerful, searing paintings.
Van Gogh's original paintings became famous partly for their vigorous, seemingly inimitable brushwork - the painter's individual 'handwriting'.
Zeng has responded to this same brushwork with handwriting from a very different cultural tradition, namely that of Chinese calligraphy.
He has done so at a time when Van Gogh has become immensely popular in countries like China and Japan.
The result is a Van Gogh seen through Chinese eyes, in a way Vincent himself could never have imagined.
Zeng takes meanings from the past and reuses them, over and over again, to generate valuable new meanings.
This book focuses on Zeng's recent work, inspired by Van Gogh's iconic self-portraits, and explores the position and importance of the self-portrait within his oeuvre. Text in English and Chinese.
Information
Format:Hardback
Pages:80 pages, 38 colour
Publisher:BAI NV
Publication Date:25/04/2018
Category:
ISBN:9789079310883