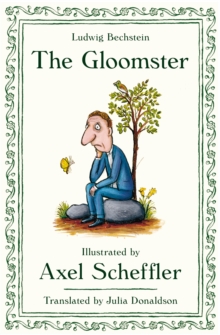 Description
Music depresses me. Dancing distresses me. Everything turns out wrong. That's why, the whole day long, I feel so gloomy. Inspired by Ludwig Bechstein's nineteenth-century poem, Axel Scheffler has created a set of delightfully dark depictions of misanthropic misery.
Julia Donaldson, Axel's collaborator on "The Gruffalo", has penned a wry, witty new translation of the original German.
The result is a triumph of negativity, in the macabre yet merry spirit of the late, great Edward Gorey.
Superbly miserable, brilliantly curmudgeonly and oddly cheering, gloominess has never been so appealing.
If you have ever felt that winter is cold and dreary but spring comes too soon each year, or that you'd rather just pull up the bedclothes and turn out the light, then "The Gloomster" is the book for you.
Information
Format: Hardback
Pages: 48 pages
Publisher: Faber & Faber
Publication Date: 20/10/2011
Category: Humour
ISBN: 9780571274246
Free Home Delivery
on all orders
Pick up orders
from local bookshops
Reviews
Showing 1 - 1 of 1 reviews.
Though the artwork is humourous and enjoyable, I was pretty meh about it (possible because I'm not a huge <b>Gruffalo</b> fan - nothing against gruffaloes in general, I guess the book just didn't speak to me). Love the poem though. Sometimes the best way to handle gloom is to embrace the gloom and just say, yup, I'm gloomy, everything is crap and though I'd like to be not gloomy, gloomy I am and sucketh does the world. The sentiment of the poem really is good enough to have a little hardback book made to contain it, with gloomy drawings (had Edward Gorey done them though, this book would no doubt be five starred).