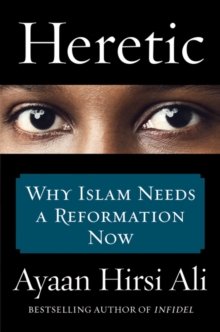 Heretic : Why Islam Needs a Reformation Now
Hardback
Description
Continuing her journey from a deeply religious Islamic upbringing to a post at Harvard, the brilliant, charismatic and controversial New York Times and Globe and Mail #1 bestselling author of Infidel and Nomad makes a powerful plea for a Muslim Reformation as the only way to end the horrors of terrorism, sectarian warfare and the repression of women and minorities.Today, she argues, the world's 1.6 billion Muslims can be divided into a minority of extremists, a majority of observant but peaceable Muslims and a few dissidents who risk their lives by questioning their own religion.
But there is only one Islam and, as Hirsi Ali shows, there is no denying that some of its key teachings-not least the duty to wage holy war-are incompatible with the values of a free society.
For centuries it has seemed as if Islam is immune to change.
But Hirsi Ali has come to believe that a Muslim Reformation-a revision of Islamic doctrine aimed at reconciling the religion with modernity-is now at hand, and may even have begun.
The Arab Spring may now seem like a political failure.
But its challenge to traditional authority revealed a new readiness-not least by Muslim women-to think freely and to speak out.Courageously challenging the jihadists, she identifies five key amendments to Islamic doctrine that Muslims have to make to bring their religion out of the seventh century and into the twenty-first. And she calls on the Western world to end its appeasement of the Islamists. "Islam is not a religion of peace," she writes. It is the Muslim reformers who need our backing, not the opponents of free speech.Interweaving her own experiences, historical analogies and powerful examples from contemporary Muslim societies and cultures, Heretic is not a call to arms, but a passionate plea for peaceful change and a new era of global toleration.
In the wake of the Charlie Hebdo murders, with jihadists killing thousands from Nigeria to Syria to Pakistan, this book offers an answer to what is fast becoming the world's number one problem.
Information
Format: Hardback
Pages: 288 pages
Publisher: HarperCollins Publishers Inc
Publication Date: 24/03/2015
Category: Islam
ISBN: 9780062333933
Other Formats
Paperback from £7.85
EPUB from £7.49
Free Home Delivery
on all orders
Pick up orders
from local bookshops
Reviews
Showing 1 - 1 of 1 reviews.
Review by dickmanikowski
16/06/2015
This may be the most terrifying non-fiction book I've ever read.The author, a Somali woman who also lived in Ethiopia, Kenya, and Saudi Arabia before fleeing to The Netherlands to escape an unwanted arranged marriage, had been a fervent Muslim before abandoning that religion.She explains in clear and stark terms the forces that are fanning the surge in violent extremism in the Muslim world. She posits that those whom the West views as extremists are indeed following the dictates of the Quran and of the prophet Muhammad. She makes a plea for moderate Muslims to speak out against blind allegiance to Islamic tradition and to publicly and privately interpret the 7th Century text and all the tradition that has enshrouded it and to create a fresh world view that's tolerant of women, gays, other religions, and even atheism.Islam has never allowed room for a reform movement like the Protestant Reformation that allowed Christians to question the dictates of the Roman Catholic Church, but that's the only hope. And she cites Muslim scholars and believers who support the concept of reform.She also calls on Western non-Muslims to abandon our political correctness and to view the situation as it is rather than continuing to voice platitudes about Islam as a peaceful religion that is being co-opted by extremists. Those "extremists" are adhering to their sacred text as it is written, and the results are far more terrifying than Christian fundamentalists trying to force Creationism to be taught in public schools.