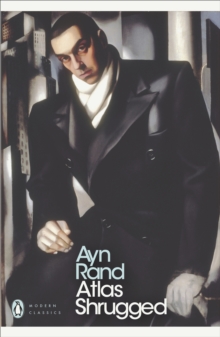 Description
A towering philosophical novel that is the summation of her Objectivist philosophy, Ayn Rand's Atlas Shrugged is the saga of the enigmatic John Galt, and his ambitious plan to 'stop the motor of the world', published in Penguin Modern Classics.Opening with the enigmatic question 'Who is John Galt?', Atlas Shrugged envisions a world where the 'men of talent' - the great innovators, producers and creators - have mysteriously disappeared.
With the US economy now faltering, businesswoman Dagny Taggart is struggling to get the transcontinental railroad up and running.
For her John Galt is the enemy, but as she will learn, nothing in this situation is quite as it seems.
Hugely influential and grand in scope, this story of a man who stopped the motor of the world expounds Rand's controversial philosophy of Objectivism, which champions competition, creativity and human greatness.
Ayn Rand (1905-82), born Alisa Rosenbaum in St. Petersburg, Russia, emigrated to America with her family in January 1926, never to return to her native land.
Her novel The Fountainhead was published in 1943 and eventually became a bestseller.
Still occasionally working as a screenwriter, Rand moved to New York City in 1951 and published Atlas Shrugged in 1957.
Her novels espoused what came to be called Objectivism, a philosophy that champions capitalism and the pre-eminence of the individual.
If you enjoyed Atlas Shrugged, you might like Rand's The Fountainhead, also available in Penguin Modern Classics.'A writer of great power ... she writes brilliantly, beautifully, bitterly'The New York Times'Atlas Shrugged ... is a celebration of life and happiness'Alan Greenspan
Information
Format: Paperback
Pages: 1184 pages
Publisher: Penguin Books Ltd
Publication Date: 01/02/2007
Category: Science fiction
ISBN: 9780141188935
Other Formats
Paperback from £4.89
eAudiobook MP3 from £33.56
Free Home Delivery
on all orders
Pick up orders
from local bookshops
Reviews
Showing 1 - 1 of 1 reviews.
Review by CliffordDorset
27/08/2015
Having been stimulated by the perceptive visions of Ayn Rand in my reading of 'The Fountainhead' I moved to 'Atlas Shrugged'; no mean feat considering the obvious challenge to my reading habits posed by its 1168 pages. However, the decision was thoroughly justified, as 'Atlas Shrugged' has provided even more food for thought than the other. Ayn Rand is surely one of the finest writers of the twentieth century, with her meticulous style and brilliant ideas. She has a grasp of philosophy, science and engineering and how these disciplines stimulate the minds of scientists. She puts to shame both non-specialist writers and supposedly educated people in general, and in this book she is able to develop many complex ideas into a superb vision of how failures to respect the human mind can lead to disaster in society. This is certainly a book that could change your life – if you can open your mind enough.