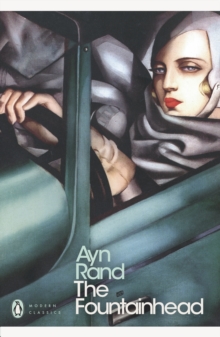 The Fountainhead
Paperback
Description
Her first major literary success, Ayn Rand's The Fountainhead is an exalted view of her Objectivist philosophy, portraying a visionary artist struggling against the dull, conformist dogma of his peers; a book of ambition, power, gold and love, published in Penguin Modern Classics. Architect Howard Roark is as unyielding as the granite he blasts to build with.
Defying the conventions of the world around him, he embraces a battle over two decades against a double-dealing crew of rivals who will stop at nothing to bring him down.
These include, perhaps most troublesome of all, the ambitious Dominique Francon, who may just prove to be Roarke's equal.
This epic story of money, power and a man's struggle to succeed on his own terms is a paean to individualism and humanity's creative potential.
First published in 1943, The Fountainhead introduced millions to Rand's philosophy of Objectivism: an uncompromising defence of self-interest as the engine of progress, and a jubilant celebration of man's creative potential. Ayn Rand (1905-1982), born Alisa Rosenbaum in St. Petersburg, Russia, emigrated to America with her family in January 1926, never to return to her native land. Her novel The Fountainhead was published in 1943 and eventually became a bestseller.
Still occasionally working as a screenwriter, Rand moved to New York City in 1951 and published Atlas Shrugged in 1957.
Her novels espoused what came to be called Objectivism, a philosophy that champions capitalism and the pre-eminence of the individual.
If you enjoued The Fountainhead, you might like Rand's Atlas Shrugged, also available in Penguin Modern Classics. 'In The Fountainhead power, greed, life's grandeur flow hot and red in thrilling descriptions' London Review of Books 'Ayn Rand is a writer of great power...she writes brilliantly, beautifully, bitterly' The New York Times
Information
Format: Paperback
Pages: 752 pages
Publisher: Penguin Books Ltd
Publication Date: 01/02/2007
ISBN: 9780141188621
Other Formats
eAudiobook MP3 from £29.36
Free Home Delivery
on all orders
Pick up orders
from local bookshops
Reviews
Showing 1 - 2 of 2 reviews.
Review by CliffordDorset
16/06/2015
This book comes with a reputation, Ayn Rand is said to have influenced many of the people of power on both sides of the Atlantic with her policy of 'Objectivism', and the glorification of self-interest. I found that any preconceptions I might have had along the lines of what such words mean to me were quickly dashed. It occurred to me that the philosophy she expounds in complex detail will have different meanings for people of different backgrounds and experience, and this feeling became stronger as I made my way through the book. The book demonstrates that words such as 'egotism', 'self-interest', 'altruism' are capable of many interpretations once they are applied to the way people interact. The book tells an architectural tale in which genius is obliged to co-exist with mediocrity, and how the two may conflict; indeed the book takes the view that conflict is inevitable. However, 'genius' is seen here as an absolute, as is an individual's capacity for understanding. Such concepts underpin the work, but above such things 'The Fountainhead' tells a powerful story which contains much of the unexpected and excites strong personal feelings about the principal characters. Despite its length I found it difficult to put down, and I feel enriched by it.
Review by jasonli
16/06/2015
"The Fountainhead" is an epic novel about the struggle of a single, American architect against the forces of the unappreciative and, as Rand paints it, evil. Although it is technically a work of fiction, "The Fountainhead" has become acclaimed as one of Rand's treatises on the philosophy objectivism, and the final fifth of the book reads as such.Because the book's climax is philosophical, rather than plot or character driven, "The Fountainhead's" characters are all stand-ins for various social archetypes. Though they are exceptional archetypes, they do flatten the plot substantially (if this is to be judged as a work of fiction). As such, "The Fountainhead" is best read as a fairy tale to Rand's philosophical views.