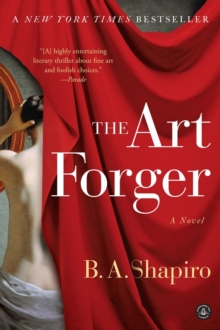 Description
Almost twenty-five years after the infamous art heist at the Isabella Stewart Gardner Museum - still the largest unsolved art theft in history - one of the stolen Degas paintings is delivered to the Boston studio of a young artist.
Claire Roth has entered into a Faustian bargain with a powerful gallery owner by agreeing to forge the Degas in exchange for a one-woman show in his renowned gallery.
But as she begins her work, she starts to suspect that this long-missing masterpiece - the very one that had been hanging at the Gardner for one hundred years - may itself be a forgery.
The Art Forger is a thrilling novel about seeing - and not seeing - the secrets that lie beneath the canvas.
Information
Format: Paperback
Pages: 384 pages
Publisher: Algonquin Books (division of Workman)
Publication Date: 21/05/2013
Category: Crime & mystery
ISBN: 9781616203160
Free Home Delivery
on all orders
Pick up orders
from local bookshops
Reviews
Showing 1 - 5 of 29 reviews.
Previous | Next
Review by carolvanbrocklin
16/06/2015
Great Book--OK so it was a little dry in parts because of all the art stuff but still quite fascinating and better than a lot of the other bestsellers out there.
Review by Lajordan
16/06/2015
This is one of the best books I've read in awhile. It was recommended by a friend who knows of my interest/background in art. I have a degree in graphic design and interest in art history, but I believe this novel would appeal to anyone with an appreciation for art. The author clearly did much research, the book was well written and added historical interest as well. Full of interesting details and characters, plus a fast paced story that really engages the reader. I am recommending this book to anyone who wants their next great read!
Review by skraft001
16/06/2015
Extremely drawn into the character of Claire Roth. Good to have a book written about how hard work and conviction pay off. You can't help but rooting for her as the story unfolds and the pages start turning faster.
Review by booklovers2
16/06/2015
A great mystery, mix of real events with fiction. A lesson in the art of forgery. You can tell a lot of work went into this book. Not being in the art business or having any knowledge whatsoever in this field, you definetly close the book feeling more informed. Shapiro gives you an inside view of the art world. She paints a perfect picture of the characters and the paintings. Excellent read! Hope to see a sequel of Claire Roth & Aidan Markel in the near future!
Review by beckyhaase
16/06/2015
THE ART FORGER by B.A. ShapiroSelf-fulfilling prophecy run rampantThis book will have you thinking about ALL the times you (or others) are influenced by what you EXPECT rather than what you actually see or hear or experience. Although Shapiro uses real artist's names and works, the novel is only loosely – very loosely – based on an actual robbery. Claire has been blackballed because of art work she has done that was attributed to another and hailed as a masterpiece. Now she is asked to copy (forge?) a masterpiece by Degas that is part of the well-known heist of artwork from the Gardner Museum. I enjoyed learning the "art' of forgery as much as I enjoyed the plot of the novel. Claire is believable and likeable. The work of the artist is written so that even artistic ignoramuses (like me) can understand the process. The plot is engrossing and keeps your attention even through the art process sections. Book groups will have a field day with self-fulfilling prophecy, ethics in the work place, art appreciation, collecting objects (especially valuable ones from other cultures), family secrets, black balling, stolen art and over reaching police. A visit to an art museum, especially one with several Degas works, would be a great introduction or wrap-up for this novel. A corollary discussion might be our attitudes towards novels by "best-selling" authors.