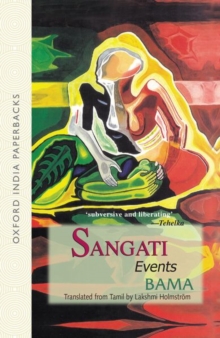 Sangati : Events
Paperback / softback
Description
Sangati is a startling insight into the lives of Dalit women who face the double disadvantage of caste and gender discrimination.
Written in a colloquial style, the original Tamil version overturns the decorum and aesthetics of upper-caste, upper-class Tamil literature and culture and, in turn, projects a positive cultural identity for Dalits in general and for Dalit women in particular.
Sangati flouts received notions about what a novel should be and has no plot in the normal sense.
It relates the mindscape of a Dalit woman who steps out of her small town community, only to enter a caste-ridden and hierarchical society, which constantly questions her caste status.
Realizing that leaving her community is no escape, she has to come to terms with her identity as an educated, economically independent woman who chooses to live alone.
In relating this tale, Bama turnsSangati into the story not just of one individual, but of a pariah community.
Marked by rich ethnographic detail, Sangati is a significant political and ideological contribution to Dalit writing in Tamil.
With a critical introduction by Lakshmi Holmstroem, this book will appeal to readers interested in Indian writing in translation and to students and teachers of translation studies, the political and social history of modern India, and cultural studies.
Information
Format: Paperback / softback
Pages: 152 pages
Publisher: OUP India
Publication Date: 20/04/2007
ISBN: 9780195698435
Free Home Delivery
on all orders
Pick up orders
from local bookshops
Also by BAMA