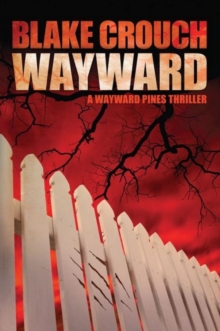 Description
The second book in the Wayward Pines Series-now a Major Television Event from executive producer M. Night Shyamalan, starring Matt Dillon Thursdays on FOX or catch up on Amazon Instant Video.
Welcome to Wayward Pines, population 461. Nestled amid picture-perfect mountains, the idyllic town is a modern-day Eden...except for the electrified fence and razor wire, snipers scoping everything 24/7, and the relentless surveillance tracking each word and gesture.
None of the residents know how they got here. They are told where to work, how to live, and who to marry. Some believe they are dead. Others think they're trapped in an unfathomable experiment. Everyone secretly dreams of leaving, but those who dare face a terrifying surprise.
Ethan Burke has seen the world beyond. He's sheriff, and one of the few who knows the truth-Wayward Pines isn't just a town. And what lies on the other side of the fence is a nightmare beyond anyone's imagining.
Information
Format: Paperback
Pages: 322 pages
Publisher: Amazon Publishing
Publication Date: 17/09/2013
Category: Crime & mystery
ISBN: 9781477808702
Free Home Delivery
on all orders
Pick up orders
from local bookshops
Reviews
Showing 1 - 5 of 8 reviews.
Previous | Next
Review by Darcia
16/06/2015
This is the second book in the Wayward Pines trilogy. If you haven't read Pines, the first book in this series, I highly recommend starting there.Wayward begins where Pines left off, and it's every bit as good. Reviewing this one is tricky without giving away things from the first book, which I don't want to do. Here, we get to know many of the people living in Wayward. We learn more about how and why they're locked in this town. As with all Blake Crouch's books, the pace is quick and the plot is full of those nail-biting moments. The ending is one killer cliffhanger. One the bright side, Crouch includes an excerpt from the final book in this trilogy. The major drawback is we have to wait until 2014 to read the rest. So I'm waiting - though I can't promise patience.
Review by grumpydan
16/06/2015
461 Residents of Wayward Pines, Idaho live in fear. Fear of their lives which are monitored; afraid to do or say the wrong things. Although the town is peaceful, it is surrounded by an electric fence so nobody can leave. The residents do not know what is on the other side of the fence nor do they know why they are imprisoned here. Sherriff Ethan Burke knows, but has to answer to those in charge or his family will be in danger.This is the sequel to Pines where we learned how Ethan got here, now Wayward expands and we learn more about the man in charge and the residents. You don't have to read the first book in the series but believe me in helps. Where the first book was intense, this one is more bogged down in preparation for the final book. Yes, there are scary moments, unanswered questions, tension and suspense, but I had a feeling I knew how this story would end. Well, not really end since it leaves it open for the next chapter. I enjoy Blake Crouch's books and this one is no exception. I am looking forward to the final book in tis series next year!
Review by clark.hallman
16/06/2015
Wayward by Blake Crouch is the second book in the Wayward Pines trilogy and it is another great read. It begins shortly after Pines (the first book in the series) ends. Ethan Burke is the new sheriff of Wayward Pines and he quickly realizes that the town and its eccentric founder David Pilcher are more challenging to cope with and more sinister than he could have imagined. In fact, satisfying the demands of the dictator and coping with his ruthless lieutenants becomes a life-threatening struggle. In addition, the demons outside the town provide a continuing nightmare. Like the first book in the series, this is an absolutely fascinating and gripping story that propels the reader to the exciting conclusion. It is also an amazing bridge to the third book, which I must read as soon as it becomes available.
Review by JackieCarroll
16/06/2015
I've done it again. I've read another book because it had great reviews, even though I knew I wouldn't like it. I have never liked this type of book. It's so bleak and without hope. If there was even a glimmer of hope that things would end well...But there is a sequel, and maybe things turn around in the next book. The story line is a bit worn--a "perfect" town that isn't what it seems. A Big Brother scenario. People who can't even hold a natural conversation because the things they really want to talk about are forbidden. There are cameras everywhere--even in their bedrooms. The people are microchipped so they can't escape the constant watchfulness, and they can leave because of the demons outside the fence. Think 1984 on a small scale. I'm giving this book three stars instead of one because it's really not a bad book, it's just not for me.
Review by mreed61
16/06/2015
This book was so disturbing to me that it took a while to get to another book, and I had to make sure I didn't read another one of Blake's right away. I started my Crouch journey with Abandon, and it sucked me in. He's an incredible writer, and although the sentence fragments used to bother me as an editor, I've gotten over that. Sometimes he uses them a little to often, but for the most part, they're interspersed well. The next in this series comes out in 2014. I thought to myself before I started this one that if it was as good as the first, I'm going to have a hard time waiting. I'm definitely going to have a hard time waiting.
Also in the The Wayward Pines Trilogy series