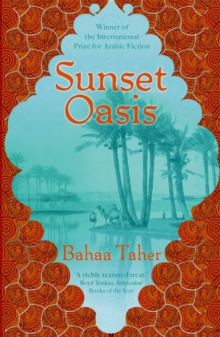 Description
As the 19th century draws to a close, the politically disgraced Mahmoud Abd El Zahir takes up his post as District Commissioner of the remote and dangerous Egyptian oasis of Siwa, knowing he has no choice.
The hostile, warring natives are no surprise - but little did he expect to fall in love, his Irish wife to alienate the entire community, or a local beauty to prove a fatal ally.
As the gulf between occupier and occupied, husband and wife, dreams and reality widens, tensions reach boiling point.
Information
Format: Paperback
Pages: 320 pages
Publisher: Hodder & Stoughton General Division
Publication Date: 10/06/2010
ISBN: 9780340924884
Free Home Delivery
on all orders
Pick up orders
from local bookshops
Reviews
Showing 1 - 1 of 1 reviews.
Review by Notesmusings
16/06/2015
Egyptian police offer Mahmoud Abd El Zahir is sent to administer the restive oasis community of Siwa in the late 1890s. He smells a rat, knowing that his English overlords have been suspicious of his role in the major uprising in 1881-82 led by Colonel Arabi or Urabi Pasha against the English and the Khedive who had acceded to it. That uprising is described later in the novel. Essentially, a sickening mismatch of military power left the rebels in disarray. Many of the bravest, far-seeing and generous-hearted people of Eqypt were mown down, while many others were morally mangled afterwards, as they betrayed each other to save their own lives. On the other hand, the servile flourished. The foundations for 20th century Egypt were being laid. Mahmoud is one of those mangled - the uprising left him hating himself for denying the cause. He feels dead.Remarkably, he is married to a spirited Irishwoman, Catherine, who has appalled her peers by taking an Egyptian husband. A passionate Irish nationalist, she is also a classical scholar fascinated by the story of Alexander the Great, and the mystery surrounding his sepulchre; she wonders if it might have been moved to the Siwa oasis, and itches to inspect local relics. She also nurses her own emotional wounds from a failed former marriage. Relations are complicated further by the arrival of her sister, the saintly, frail beauty Fiona, who had once seemed destined to marry Catherine's own former partner. With its Berber population, Siwa regards even Egyptian Arabs as colonists, never mind the English. Its population have a murderous hatred toward all outsiders who impose such heavy taxes. However, they are themselves bitterly factionalised among themselves.For most of the novel Mahmoud manoeuvres between the different players in Siwa - half-heartedly, since he has little will to live. Catherine wants to revive him, and their relationship, and also yearns to explore her scholarly interests, her poetic sensitivity to the desert, and she is keen for friendship with locals; but it is she who jars most heavily with the local culture and its brutal restrictions on women. The theme of deadness is played out from many angles, and has appeared in the author's other literary work. Perhaps that is not surprising in someone who lived through decades of dictatorship in his homeland.