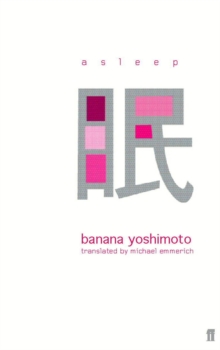 Description
Banana Yoshimoto has a magical ability to animate the lives of her young characters, and here she spins the stories of three women, all bewitched into a spiritual sleep.
One, mourning a lost lover, finds herself sleepwalking at night.
Another, who has embarked on a relationship with a man whose wife is in a coma, finds herself suddenly unable to stay awake. A third finds her sleep haunted by another woman whom she was once pitted against in a love triangle.
Sly and mystical as a ghost story, with a touch of Kafkaesque surrealism, Asleep is an enchanting book from one of the best writers in contemporary international fiction.
Information
Format: Paperback
Pages: 192 pages
Publisher: Faber & Faber
Publication Date: 03/09/2001
ISBN: 9780571205370
Free Home Delivery
on all orders
Pick up orders
from local bookshops
Reviews
Showing 1 - 5 of 5 reviews.
Review by madhuri_agrawal
16/06/2015
It was Ms. Yoshimoto who got me enamored with the Japanese writing with her book Amrita. Since then, I have been more and more inclined towards picking up books from Ishiguro, Murakami, and even Junichiro.Ms. Yoshimoto has a very definitive way of delving into the other world and seam the real with the surreal in a complimentary fashion.In Asleep, she brings forth the story of three women, who have to fight different battles with their sleep - sleep-walking, hanuted sleep and an inability to wakeup. Though the author does not pay much attention to detailing out a character, she somehow masterly deals with abstractions, to the point where I an almost identify with the ethereal yearning and restlessness.Simply impressive.
Review by wendywh
16/06/2015
I like this book, although the spirit behind the stories is dark and loneliness is everywhere in the book. It is not a book just about love. It is a book that studies life and death.
Review by RandyMetcalfe
16/06/2015
An eerie yet familiar ethereal quality infuses the three stories of Banana Yoshimoto's <i>Asleep</i>. The first-person narrator of each is a border person, existing on the cusp between wakefulness and sleep, life and death, periodically crossing over and crossing back. In "Night and Night's Travelers" the death of Yoshihiro, the brother of the narrator, transfixes the lives of his sister, Shibami, his girlfriend at the time of his death, Mari, and the young American exchange student, Sarah, with whom he earlier fallen in love and later abandoned. Mari cannot sleep. Sarah cannot let go. Both have enduring mementos of their relationship with Yoshihiro. It is left to Shibami to serve as their medium, between each other and with the spirit of Yoshihiro.In "Love Songs", two women vying for the same man form a relationship so intense, yet unspoken, that it might be love. The death of the older woman, Haru, cements the bond somehow. The younger woman begins taking on some of Haru's characteristics and is even visited by what she believes is Haru's spirit. Her purposeful confrontation with the spirit is the necessary next step in her own transformation and broader understanding of love in its many forms.Death also troubles "Asleep," with the suicide of the former flat-mate of the narrator, Terako. Her death and the transitional state between life and death of the wife of the Terako's boyfriend, trapped in a permanent coma, begin to sap the life force of Terako. She visibly loses her will to live, embracing exhaustion and sleeping for increasing numbers of hours, so deeply that she cannot even hear a telephone ring. Again, a visitation from the spirit realm triggers Terako's rescue.The themes of death, loss of will, and love permeate these stories. Tone is more important than action. Anxiety, perhaps about the transition to adulthood (most of the characters seem to exist in a state of perpetual late adolescence), dominates. Age or cultural distance may be a barrier to embracing the objects of Yoshimoto's concern, but her writing itself is well worth reading.
Review by emilyingreen
16/06/2015
I loved this! Gorgeous prose, simple yet haunting. It's amazing to me that modern Japanese culture still has such strong ties to the spirit world. I loved these depictions of people drifting in and out of reality, fighting their addictions and demons.
Review by xuebi
16/06/2015
Asleep by Banana Yoshimoto is a collection of three short stories focusing on the transitory nature of life and nostalgia from one of Japan's most famous modern writers. Each story is tinged with loss, death, and sleep and how one, while shunning the ordinariness of the world, comes to terms with that. Of the three stories ("Night and Night's Travellers", "Long Songs", and "Asleep"), my favourite was the first one, which could have been extended just a little more.

All three stories do not really end but just stop, which when read in succession can be wearisome. However, Yoshimoto has portrayed beautifully the pathos of everyday life and its fleetingness, central to Japanese aesthetics, both of which are contained within these stories. Each is enjoyable.