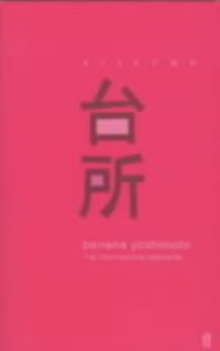 Description
Juxtaposes two tales about mothers, trans-sexuality, kitchens, love, tragedy, and the terms they all come to in the minds of a pair of free-spirited young women in contemporary Japan.
Information
Format: Paperback
Pages: 160 pages
Publisher: Faber & Faber
Publication Date: 29/07/2000
ISBN: 9780571171040
Free Home Delivery
on all orders
Pick up orders
from local bookshops
Reviews
Showing 1 - 3 of 3 reviews.
Review by soylentgreen23
16/06/2015
Interesting name, and certainly memorable. Sadly, not true of the book, which I gather has been made into a film, which I have seen but also cannot remember. It almost seems churlish of me to rate and review this one at all, but what can I say? I'm a completist.
Review by TPauSilver
16/06/2015
Kitchen is a strange story about loss and grief. It's actually a collection of three short stories, each about a different death and the third being only thematically realted to the first two. Each of them shows someone dealing with a death. The emotions, the numbness and the depression are very real and well illustrated, as are the characters. It's a compelling read and also oddly uplifting and depressing at the same time.
Review by xuebi
16/06/2015
In <i>Kitchen</i>, Banana Yoshimoto portrays everyday life and love in a contemporary Japanese setting. The two short stories in this novella are different but at the same time, demonstrate common themes in Yoshimoto's writings. <br/><br/>The first one, the eponymous "Kitchen", the protagonist Mikage Sakurai struggles to overcome the death of her grandmother while drawing close to Yuichi and his transgendered mother. "Kitchen" explores the discovery of food and love against an ever-present background of tragedy. <br/><br/>In the second story, "Moonlight Shadow", a young woman, Satsuki, comes to terms with the death of her boyfriend, Hitoshi, in a car accident and her friendship with her boyfriend's brother. It is in this story particularly that Yoshimoto revisits the themes of grief, loss, and hope present in her other works, though this one has a more surrealist air. <br/><br/>Both stories are good examples of Yoshimoto's writing and the themes she explores, and portray love and grief in contemporary Japan well.