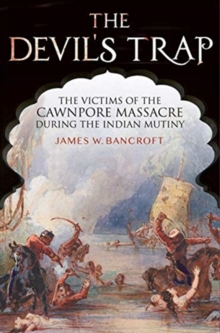 The Devil's Trap : The People of the Cawnpore Massacre During the Indian Mutiny
Hardback
Description
At the height of the savage and bitter Indian Mutiny, the British garrison at Cawnpore found itself surrounded in June 1857\.
Through a lack of resources, its commander, Major General Wheeler, agreed to surrender the city providing all the British inhabitants were granted free passage out of Cawnpore.
But, just as the men women and children were about to embark on the boats that would take them to safety, the Mutineers attacked. All the British troops were killed, as were some of the women and children, with others being wounded.
Those who survived, approximately 200 in number, were moved to a small villa called Bibighar.
Held in awful conditions, many subsequently died from cholera and dysentery. When the rebel leader, Nana Sahib, learned that a large British force was approaching to relieve the captives, he ordered all the women and children to be killed.
Though some of the sepoys refused to act, others began to hack about them with swords and cleavers.
In the orgy of horror that followed, women were raped and mutilated, children stripped and murdered. In a bid to conceal the atrocity from the revengeful British troops, the corpses were thrown into a deep well.
Just four of the original 200 people captured at Cawnpore lived to tell the gruesome tale by hiding under the bodies of the dead. Over many years James Bancroft has collected information on the victims and has interviewed some of the descendants.
This has enabled him to examine the events at Cawnpore in 1857 through the lives of those who died and survived the atrocity, throwing new light on this very dark tale.
The book is completed with photographs of the sites in India taken by one the families of the victims.
Information
Format: Hardback
Pages: 248 pages, 16 illustrations
Publisher: Pen & Sword Books Ltd
Publication Date: 01/02/2019
Category: Asian history
ISBN: 9781526718013
Free Home Delivery
on all orders
Pick up orders
from local bookshops