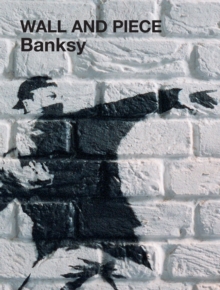 Description
Artistic genius, political activist, painter and decorator, mythic legend or notorious graffiti artist?
The work of Banksy is unmistakable, except maybe when it's squatting in the Tate or New York's Metropolitan Museum.
Banksy is responsible for decorating the streets, walls, bridges and zoos of towns and cites throughout the world.
Witty and subversive, his stencils show monkeys with weapons of mass destruction, policeman with smiley faces, rats with drills and umbrellas.If you look hard enough you'll find your own.
His statements, incitements, ironies and epigrams are by turns intelligent and cheeky comments on everything from the monarchy and capitalism to the war in Iraq and farm animals. His identity remains unknown, but his work is prolific.
Here's the best of his work in a fully illustrated colour volume - including brand material.
Information
Format: Paperback
Pages: 240 pages
Publisher: Cornerstone
Publication Date: 01/11/2006
Category: Painting & paintings
ISBN: 9781844137879
Free Home Delivery
on all orders
Pick up orders
from local bookshops
Reviews
Showing 1 - 3 of 3 reviews.
Review by m.a.harding
16/06/2015
A naughty boy - or so it seems at first. Thanks to Banksy for the diary excerpt in the 'Manifesto' section.
Review by satyridae
16/06/2015
Banksy's work is awe-inspiring plus he's hilarious. An artist with a twisted sense of humor doing deadly serious installations... on the sides of cows. I'm a graffiti fan, but I think Banksy transcends the genre with ease. This guy is brilliant. Not to be missed.
Review by lukespapa
16/06/2015
Wall and Piece is a book chock full of images by the renowned and mysterious London graffiti artist, Banksy, who loathes mindless public places, the establishment, corporate sponsored graffiti (i.e. advertising), and anti-graffiti enforcers (i.e. police). Using stencils to quickly make his mark, Banksy seeks to air his grievances and democratize art by making it freely available to all people in very public spaces. In many instances, and however temporary, Banksy's vandalism actually achieves its goals. For example, the black silhouette of a small girl holding balloons floating up in the air as painted on the Segregation Wall dividing Palestinians and Israelis, "Designated Picnic Area" stenciled on an urban dumpster, or his iconic rat (as opposed to that Mouse) splattered on city walls as the role model for the disenfranchised. Though some pieces are overly contrived such as the malnourished Burger King boy, or Queen (as) Monkey, almost all of Banksy's images and use of space are cleverly executed, often with biting humor, including the self-installed works in legitimate museums. In many ways a Millennial urban equivalent to fellow UK artist Richard Long whose pieces are also rooted in simplicity, Banksy's oeuvre is easily accessed but ironically lingers in the consciousness with multilayered sophistication. Whether or not you agree with his approach he does make a statement and for that he should be respected, if not admired.