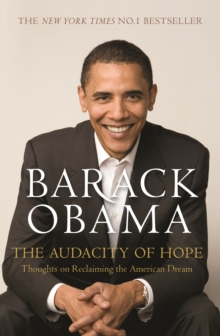 The Audacity of Hope : Thoughts on Reclaiming the American Dream
Paperback
Description
Barack Obama's success in becoming President-Elect of the United States means he will dramatically change the face that his country presents to the world.In this bestselling book Obama discusses the importance of empathy in politics, his hopes for a different America with different policies, and how the ideals of its democracy can be renewed.With intimacy and self-deprecating humour, Obama describes his experiences as a politician and balancing his family life with his public vocation.
His search for consensus and his respect for the democratic process inform every sentence.
A senator and a lawyer, a professor and a father, a Christian and a sceptic, Barack Obama has written a book of transforming power that will inspire people the world over.
Information
Format: Paperback
Pages: 384 pages
Publisher: Canongate Books Ltd
Publication Date: 07/02/2008
Category: Political ideologies
ISBN: 9781847670830
Free Home Delivery
on all orders
Pick up orders
from local bookshops
Reviews
Showing 1 - 5 of 5 reviews.
Review by emed0s
16/06/2015
After watching Obama's great talent as an orator, and despite not being a US citizen, I decided to buy this book.In the book he speaks of the great goals that he pursues and that are based on the greatness of the human spirit. But he doesn't forget to propose some policies that, I think, are of common interest for the middle class of the Western countries in the globalized economy.And through the book one can read about the personal experiencies that have taken him to his current opinions.
Review by JonArnold
16/06/2015
Or as it should probably be known, Barack Obama's first election manifesto. Obama is unquestionably the most exciting political figure in the Western hemisphere in my lifetime. Rather than the tired dogmas that have dragged down previous election campaigns he ran on a platform of positivity and hope, summed by his simple and brilliant slogan 'Yes, we can'. It was inclusive and challenging to the electorate, invigorating.The hook here is to see what we can divine of Obama's possible actions as President. It's clear from the book that he's genuinely unaffected by the cynicism that often develops in politicians, but that his enthusiasm is tempered by intelligence and thoroughness, setting forth what he sees as the major issues facing modern America and possible solutions.And instead of rendering politics a dry, dead subject, as professional politicians often do, Obama makes the subject engaging. Policy is never talked about in abstract terms, he always gives a human dimension to the issues and has a gift for striking imagery that encapsulates the ideas he's trying to get across (speeches to an empty Senate chamber, the stunning view from a jet). And the prose itself is beautiful, although occasionally becoming flowery. It's a book you couldn't imagine any of his recent predecessors (particularly the immediate one) having the sincerity, compassion or way with words to write. Whereas the previous regime tried to link compassion with conservatism, one read of this book should show them what compassion truly looks like, and in this case it isn't just a hollow word.Obama himself comes across as a man of rare perspective, probably due to his eclectic, catholic (the small c is crucial there) upbringing. He seems open to ideas and genuinely thoughtful as to the wide ranging effects policies may have. His beliefs and conclusions are based on thoughtful analysis tempered with human compassion - almsot too good to be true. I actually finished the book even more fascinated by the possibilities of Obama's term. If he is a man of deeds as well as words, and he's alllowed to follow the guidelines he sets down here, then his Presidency may live up to the hope and expectations placed upon it.
Review by john257hopper
16/06/2015
Published in 2006, in this book the then US senator sets out his views on American domestic and inernational issues and the way forward he sees for his country on a whole range of issues. A persuasive and fluent writer, this also offers insights into his family and what makes the man tick.
Review by theboylatham
16/06/2015
5/10.
A personal manifesto that is suprisingly weak on big ideas and simplistic. Nice writing style but missing any kind of serious points.
Review by soylentgreen23
16/06/2015
Barack Obama's second book is an amazing piece of political writing. It's no wonder that the American people elected him their first black president; he is fair, honest, and understands the power of nuance, a power that is rarely seen in political debate these days.