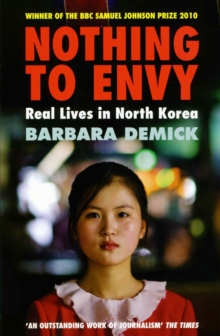 Nothing to Envy : Real Lives in North Korea
Paperback
Description
Updated in 2014 with a new epilogue. North Korea is Orwell's 1984 made reality: it is the only country in the world not connected to the internet; Gone with the Wind is a dangerous, banned book; during political rallies, spies study your expression to check your sincerity.
After the death of the country's great leader Kim Il Sung in 1994, famine descended: people stumbled over dead bodies in the street and ate tree bark to survive.
Nothing to Envy weaves together the stories of adversity and resilience of six residents of Chongin, North Korea's third largest city.
From extensive interviews and with tenacious investigative work, Barbara Demick has recreated the concerns, culture and lifestyles of North Korean citizens in a gripping narrative, and vividly reconstructed the inner workings of this extraordinary and secretive country.
Information
Format: Paperback
Pages: 314 pages, Illustrations, map, ports.
Publisher: Granta Books
Publication Date: 08/07/2010
Category: Memoirs
ISBN: 9781847081414
Free Home Delivery
on all orders
Pick up orders
from local bookshops
Reviews
Showing 1 - 3 of 3 reviews.
Review by vestafan
16/06/2015
I thought that the individual stories were an effective way of communicating how people survive (or not) in North Korea - the same facts told in a more abstract manner would not have had the same impact. I found all of it affecting, and the section on the famine almost unbearable. Because it follows the lives of six defectors, it is gripping and accessible.- you see behind the rather disturbing scenes of goose stepping and mass hysteria and begin to have an inkling of what living under such a regime does to people.
Review by DubaiReader
16/06/2015
What an eye-opener!How have I been so naiive about what has been happening in North Korea all this time? Well, I'm so glad I downloaded this audiobook, because now I am very much more aware of events in this culturally isolated country. The opening statement, that Google Earth shows the country as nothing but darkness because electricity is not the norm in people's houses, was just a taster for the repression and struggles that the population has endured.Although I originally struggled with the Korean names, after a while I began to recognise people reappearing in this non-fiction account. Every one of them endured a battle for survival that progressively got worse and worse. Their imprinted visions of North Korea gradually started to crumble, as famine and detentions in the gulag became more and more prevalent.Although the author did manage to visit this closed country on a couple of occasions, her characters were people who had eventually managed to escape, and allowed her to interview them in the relative safety of their new homes. Their survival, however, had frequently been at the expense of other family members remaining behind, who would have been made to pay the price. The book covers the period from the rise and subsequent death of Kim Il-sung, in 1994, through the ensuing rule of his son Kim Jong-i, who has since died (2011), but was still in power at the end of the book. This was a period of time during which 20% of the population died of starvation, but the country refused to allow outside help. The attempts that these people make to try and live some sort of normal life throughout this time, is heartbreaking.A well told account of unbelievable deprivation and determination to survive.
Review by AlisonY
27/08/2015
I thought I knew a little about what life was like in North Korea before reading this. I'd seen years ago photos of a super highway with no cars on it, and a poster advertising the government permitted hairstyles. I had no idea that this was merely scratching the surface, and that most of the country remains in abject poverty. Like the years of the famine in the 1990s (2 million people died - I had no idea), as of 2010 people were still hiking out to the countryside to find grass and weeds to eat, with most people living in a constant state of starvation.Having finished the book, my head is still trying to get around this, and moreover that the Western world allows this to go on. I wonder would things be different if it was a country rich in oil reserves...North Korea, the ultimate closed state, was always going to be an interesting read, but I think Barbara Demick did a fantastic job with this book. By taking the lives of 6 defectors, she brought a human narrative to a non-fiction subject, and these 6 people became fascinating real life protagonists, with love stories and personal tragedies.It's sad there's no happy ending to this book, and that if anything the country is declining further backwards.4 stars for a fascinating and shocking read.
Also by Barbara Demick