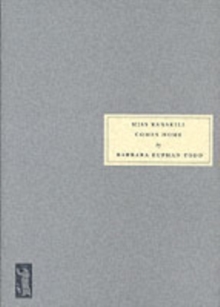 Miss Ranskill Comes Home
Paperback
Information
Format: Paperback
Pages: 328 pages
Publisher: Persephone Books Ltd
Publication Date: 06/11/2003
ISBN: 9781903155363
Free Home Delivery
on all orders
Pick up orders
from local bookshops
Reviews
Showing 1 - 5 of 5 reviews.
Review by ms.hjelliot
16/06/2015
Miss Ranskill Comes Home begins with a burial. It is a bleak beginning however ridiculous, but we know she is rescued and returns to 'civilization.' This return, a return she has dreamt of all these years, becomes a heartbreaking reality as she finds her home changed. England is not the England she remembers and her home no longer her home. Of course nothing is as we remember and we can never go home again as they say. Miss Ranskill is looking at her country, her people, through the eyes of a foreigner and thus she is treated. England is harsh, people unfriendly. Even her sister finds her a burden rather than welcoming her with open arms. But Miss Ranskill did not survive on a desert island for four years to be defeated by her newly war-transformed country. It is another type of survival she must learn.
Review by CatyM
16/06/2015
When middle-aged spinster Nona Ranskill fell overboard chasing an escaping hat on a cruise ship early in 1939, she didn't expect to spend four years stranded on a desert island - or to return, a changed woman, to an England itself changed beyond recognition by rationing, the blitz, and the immense practical and psychological upheaval of war.<i>Miss Ranskill Comes Home</i> is a novel dominated by its characters. The character development of Miss Ranskill herself is remarkable, as are the detailed character sketches of her relatives and former friends. Some characters verge on caricature, and are clearly intended as parody; however, they have a depth and roundedness which makes them satisfying characters despite this.The characters dominate - but to a purpose. There is some very powerful social satire, as Miss Ranskill finds herself unable to share the class (and other) prejudices of her sister and former school-friend, prejudices that she herself had held before her period on the island.The disconnection Miss Ranskill feels with the other characters' lives and ways of thinking, the alien world in which she finds herself, the way she gradually adjusts to her new world, the responsibilities and bonds she now feels, the relationship she had with the Carpenter - the man with whom she shared the island - these are shown perfectly. The last is all the more remarkable given that the book opens with the Carpenter's death.The prose is beautiful, and contains some very poetic passages. There is also some wonderful humour, which is balanced by some very poignant and profound passages. Through Miss Ranskill, Barbara Todd comments on the massive changes that take place not only when the war comes, but also when a war is over: Miss Ranskill experienced this after the First World War, and reflects on what it will mean not only for those who have fought in the war, but also those whose childhoods have been dominated by war and marked by the absence, temporary or permanent, of their fathers and other male role models.Add to all this a great delicacy and poise in timing, delivery, plot and pacing, and the result is a book which is a delight to read.
Review by Welshwoman
16/06/2015
Absolutely charming book.
Review by helen295
16/06/2015
Shortly before the start of World War II, Nona Ranskill was swept overboard whilst on a cruise and was washed up on a desert island. The only other inhabitant of the island is a man known as 'the Carpenter', who had also fallen overboard on an earlier occasion. At the beginning of the book, the Carpenter has died and we first meet Miss Ranskill as she's digging his grave. After burying the Carpenter, Miss Ranskill makes an attempt to escape from the island - and luckily she is rescued by the British Navy. Returning to England after almost four years, Miss Ranskill discovers that it's not the England she left behind: in her absence, World War II has begun..This may all sound very far-fetched, but Todd actually makes it seem believable. I thought the whole idea of someone being cut off from the world and returning home only to find themselves suddenly thrown into the middle of a war was absolutely fascinating. I particularly enjoyed the first half of the book which deals with the first few days of Miss Ranskill's arrival in England, when everything feels strange and surreal. Even the English language seems different and full of unfamiliar words. When she tries to buy food she can't understand why she's asked for her 'ration book', or why she needs 'coupons' to purchase clothes. This leads to some very amusing situations but at the same time you can't help but feel sorry for poor Miss Ranskill.Although he's dead before the story even begins, the strongest character in the book is the Carpenter. He is constantly in Miss Ranskill's thoughts and his presence is there on almost every page in the form of flashbacks and memories. His optimism and words of wisdom had helped to sustain Miss Ranskill during her time on the island and continue to give her comfort on her return to wartime Britain.However, the years on the island and the company of the Carpenter have given her a new outlook on life and she finds it difficult to adjust. Unlike her friends and family who are all absorbed in their war work, Miss Ranskill feels detached from what's going on and spends most of the book remembering the island and even feeling nostalgic about the fact that she had to eat fish for every meal and wear the same clothes for nearly four years! England may have changed, but Miss Ranskill has changed even more.This book has the perfect blend of humour and poignancy and gives us an opportunity to explore World War II from a unique perspective.
Review by cushlareads
16/06/2015
Miss Nona Ranskill went on a cruise in 1939 and tried to rescue her hat. She washed up on a desert island and found another survivor there, called the Carpenter. They lived on the island for four years, then he died. She rowed home in a boat they'd made together, and got picked up by a convoy of destroyers - and she discovered that England is at war and it's 1943. Miss Ranskill is clueless about what's happened to her country, and her homecoming is nothing like what she expected.She goes to stay with an old school friend, Marjorie, who represents the worst aspects of British busy-bodiness, gung-ho patriotism and snobbishness, then moves on to find her sister, who's had to leave their house because it's in a sensitive area for the war. Eventually she tracks down the Carpenter's wife and son.Some of the writing is beautiful, and if you like satire, books about World War 2 and what it was like in England this is well worth reading. It paints a much nastier picture than Mrs Miniver or the Diary of a Provincial Lady - lots of pointless one-upmanship and dobbing others in for breaches of rules. But - and for me it was a big but - I found the plot really contrived. (And yes I know it was satirical!) The book would have been much better if some of the more far-fetched bits had been reworked. If you came off a navy ship after 4 years of being shipwrecked, wouldn't you think that maybe you should report yourself to the police so that they could get on with sorting out your status, not do a runner from the Naval Officer who'd been looking after you for the last few weeks on board the destroyer? And then when you did track down your school friend, who'd remained an overbearing cow, wouldn't you manage to get her shut up long enough to tell her you had just been shipwrecked on a desert island for 4 years and just got back to England 7 hours ago? I really wanted to scream at her a few times.