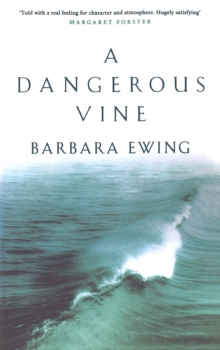 A Dangerous Vine
Paperback
Description
Margaret Rose Bennett, like her elder sister, Elizabeth, was named after the two English princesses. But Elizabeth is dead, and Margaret Rose still living, searching and reaching out for life and its meaning. And against the frankly odd, strained and curiously English household she inhabits in a New Zealand city, it is hard to make out the truth.
So Margaret abandons what her parents think is right: learning English history, the French language, listening to comedy shows on the World Service and returning home on the 9.30 tram and maps out a course of her own. She studies Maori at University, makes friends with the wayward Emily (daughter of the soon to be Prime Minister of New Zealand) and shy, independent Prudence.
As a trio they study hard for their degrees, work by day at the local Government offices and by night sing, drink and laugh with the local Maori people - and fall in love. A new world, an enchanting world, and one with an underbelly of struggle, colour, passion and even violence.
Far removed from the closed, ordered life of Margaret Rose's family, but perhaps not so detached from their own, secret history...Here is an extraordinary, poetic novel of a society trapped in a time of its own, undercut by a people that live and breathe with a vigour that bubbles and burst through the silent surface.
Information
Format: Paperback
Pages: 448 pages
Publisher: Little, Brown Book Group
Publication Date: 07/09/2000
ISBN: 9781860498305
Free Home Delivery
on all orders
Pick up orders
from local bookshops
Reviews
Showing 1 - 1 of 1 reviews.
Review by MelmoththeLost
16/06/2015
This is one of those books which never truly gripped my attention or imagination, which may be because it followed hard on the heels of two outstanding novels - Cloud Atlas and The Tree of Man. I can understand why it was longlisted for the Orange Prize a couple of years ago, but understand, too, why it wasn't shortlisted for it.In a sense ruthwater has said most of what I would say myself - strong on atmosphere and the cultural background, weak on both character and the telling of the story.I too found the Maori characters merging into one another - but so did most of the Pakeha ones as well. Vine may have introduced distinctive little details, such as Paddy's ill-fitting red wig and Gallipoli Gordon's outstanding singing voice, but those details just aren't enough to create real characters. Only Maggie's mother, a repressed and guilt-ridden hysteric, really leapt off the page for me.I too found the early chapters heavy going. The writing was clumsy and intrusive until around page 70 when it seemed to hit a new gear and improved markedly thereafter. Even so, it was the atmosphere and social history embedded within the novel which encouraged this reader stick with it.