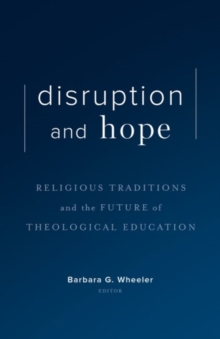 Disruption and Hope : Religious Traditions and the Future of Theological Education
Hardback
Description
During times of rapid social and religious change, leadership rooted in tradition and committed to the future is the foundation upon which theological schools stand.
Theological education owes itself to countless predecessors who paved the way for a thriving academic culture that holds together faith and learning.
Daniel O. Aleshire is one of these forerunners who devoted his career to educating future generations through institutional reforms.
In honor of Aleshire's decades of leadership over the Association of Theological Schools, the essays in this book propose methods for schools of various denominational backgrounds to restructure the form and content of their programs by resourcing their own distinctive Christian heritages. Four essayists, former seminary presidents, explore the ideas, doctrines, and ways of life in their schools' traditions to identify the essential characteristics that will carry their institutions into the future.
Additionally, two academic leaders focus on the contributions and challenges for Christian schools presented by non-Christian traditions in a rapidly pluralizing landscape.
Together, these six essays offer a pattern of authentic, innovative movement for theological institutions to take toward revitalization as they face new trials and possibilities with faithfulness and hope.
This volume concludes with closing words by the honoree himself, offering ways to learn from and grow through Aleshire's legacy. Contributors: Barbara G. Wheeler, Richard J. Mouw, Martha J. Horne, Donald Senior, David L. Tiede, Judith A. Berling, Daniel O. Aleshire
Information
Format: Hardback
Pages: 176 pages
Publisher: Baylor University Press
Publication Date: 01/03/2019
Category: Ecumenism
ISBN: 9781481308151