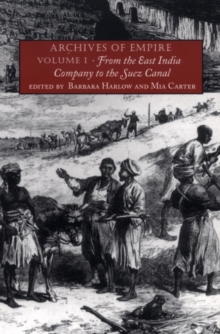 Archives of Empire : Volume I. From The East India Company to the Suez Canal
Hardback
Description
A rich collection of primary materials, the multivolume Archives of Empire provides a documentary history of nineteenth-century British imperialism from the Indian subcontinent to the Suez Canal to southernmost Africa.
Barbara Harlow and Mia Carter have carefully selected a diverse range of texts that track the debates over imperialism in the ranks of the military, the corridors of political power, the lobbies of missionary organizations, the halls of royal geographic and ethnographic societies, the boardrooms of trading companies, the editorial offices of major newspapers, and far-flung parts of the empire itself.
Focusing on a particular region and historical period, each volume in Archives of Empire is organized into sections preceded by brief introductions.
Documents including mercantile company charters, parliamentary records, explorers' accounts, and political cartoons are complemented by timelines, maps, and bibligraphies.
Unique resources for teachers and students, these books reveal the complexities of nineteenth-century colonialism and emphasize its enduring relevance to the "global markets" of the twenty-first century.
Tracing the beginnings of the British colonial enterprise in South Asia and the Middle East, From the Company to the Canal brings together key texts from the era of the privately owned British East India Company through the crises that led to the company's takeover by the Crown in 1858.
It ends with the momentous opening of the Suez Canal in 1869.
Government proclamations, military reports, and newspaper articles are included here alongside pieces by Rudyard Kipling, Charles Dickens, John Stuart Mill, Karl Marx, Benjamin Disraeli, and many others.
A number of documents chronicle arguments between mercantilists and free trade advocates over the competing interests of the nation and the East India Company.
Others provide accounts of imperial crises-including the trial of Warren Hastings, the Indian Rebellion (Sepoy Mutiny), and the Arabi Uprising-that highlight the human, political, and economic costs of imperial domination and control.
Information
Format: Hardback
Pages: 832 pages, 28 illus., 1 map
Publisher: Duke University Press
Publication Date: 20/12/2003
Category: General & world history
ISBN: 9780822331766
Free Home Delivery
on all orders
Pick up orders
from local bookshops