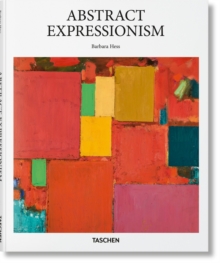 Abstract Expressionism
Hardback
Description
Mood marks: The painterly gestures of personal feelings Hailed as the first American-born art movement to have a worldwide influence, Abstract Expressionismdenotes the non-representational use of paint as a means of personal expression.
It emerged in America in the 1940s, with lead protagonists includingJackson Pollock, Philip Guston, Robert Motherwell, Mark Rothko, andWillem de Kooning.Abstract Expressionism spawned many different stylistic tendencies but two particularly prominent sub-categories: action painting, exemplified by de Kooning and Pollock, and color field painting, made most famous by Rothko.
Throughout, Abstract Expressionists strove to conveyemotions and ideas through the making of marks, through forms, textures, shades, and the particular quality of brushstrokes.
The movement favored large-scale canvases, and embraced the role of accident or chance.With featured works from 20 key Abstract Expressionist artists, this book introduces the movement whichshifted the center of art gravity from Paris to New Yorkand remains for many the golden moment of American art.
About the Series: Each book in TASCHEN's Basic Genre series features: a detailed illustrated introduction plus a timeline of the most important political, cultural and social events that took place during that period a selection of the most important works of the epoch, each of which is presented on a 2-page spread with a full-page image and with an interpretation of the respective work, plus a portrait and brief biography of the artist approximately 100 colour illustrations with explanatory captions "
Information
Format: Hardback
Pages: 96 pages
Publisher: Taschen GmbH
Publication Date: 01/02/2016
ISBN: 9783836505178
Free Home Delivery
on all orders
Pick up orders
from local bookshops